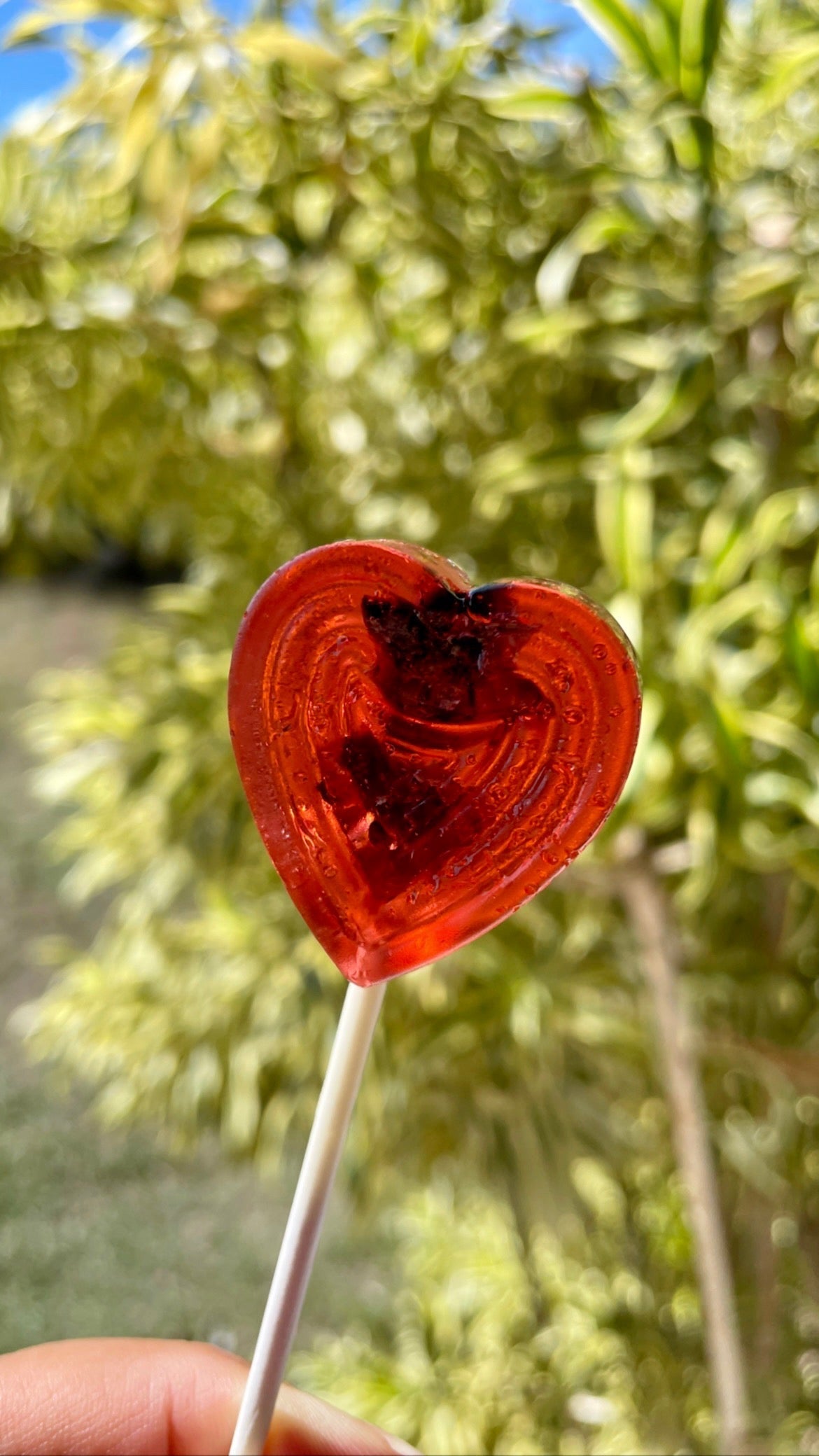 Li Hing Mui Lollipops Recipe
When we were growing up, these lollipops were super popular. Make some for your kids today and share one of Hawaii's favorite treats with them! They're super easy to make and soooo tasty.
Prep Time: 5 minutes
Cook Time: 15 minutes
Cooling Time: 1 1/2 hours
Total Time: 1 hour 50 minutes
Yield: 24 Lollipops
INGREDIENTS
2 cups sugar
1/2 cup water
1/2 cup corn syrup
1 tsp flavor extract (Vanilla, Strawberry, Lime, etc)
Food coloring (We used Red, but feel free to use your kid's favorite colors)
INSTRUCTIONS
Prep your lollipop molds with non-stick spray. It's important to have your ducks all in a row as you will need to move fast once the candy is hot.
Chop up your Sweet Seedless Li Hing Mui and add to your molds. 
In a quart-sized pot add your sugar, water and corn syrup. Heat on medium high heat stirring constantly.
Once your sugar dissolves put in your candy thermometer and wait till it reaches 300 degrees.
When it reaches 300 degrees take it off the heat and add your food coloring and flavor extract. Mix well. You can also add a sprinkle of Li Hing Mui Powder now if you want your lollipops to have extra flavor. Just make sure to mix well. 
Pour immediately into your molds. Move quickly as the candy hardens as it cools.
Insert your sticks into the candy while it's still hot. Make sure you push them into the middle and don't just lay them on top. If you just lay them on top of the candy, they won't stick. 
You can also sprinkle some li hing mui powder on top, if you want extra flavor. 
Let your candy cool for 1 1/2 hours. 
Remove from molds and wrap in candy bags. ENJOY!