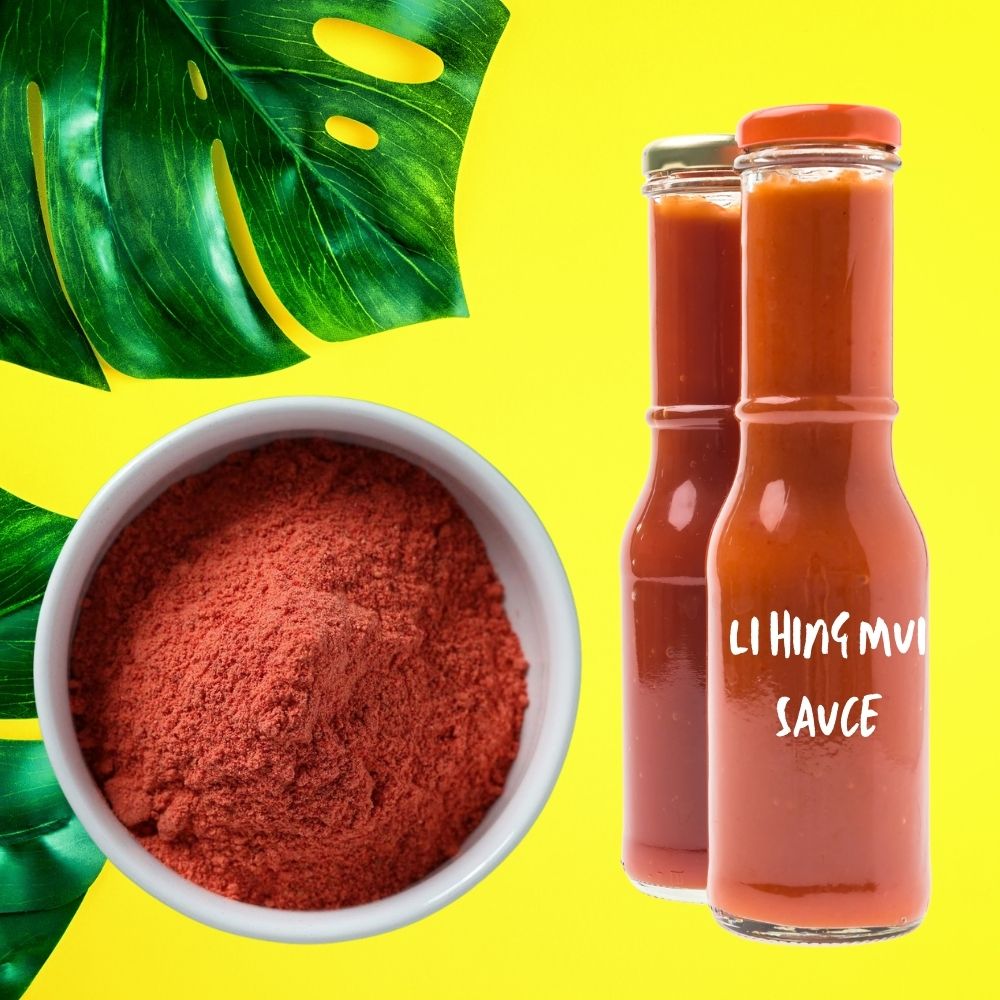 Li Hing Mui Sauce Recipe
In Hawaii, it would be hard to come across anyone who hasn't tasted Li Hing Mui (pronounced lee-hee-moo'-ee).

Li Hing Mui is a popular ingredient in Hawaii, used in a variety of snacks including our best-selling Li Hing Mui Candy.

Most Li Hing Mui recipes contain Li Hing Mui Powder, a fine powder made from salted preserved Asian plums. The plums have been preserved in a combination of licorice, red food coloring, salt and sugar, and offer a delicious blend of sweet, salty, and sour flavors - a real taste sensation! Li Hing Mui powder can also be sprinkled on candy, chips, popcorn, shaved ice, and can even be blended into drinks (try it for a tasty margarita!)

Another Hawaiian favorite containing Li Hing Mui Powder is Li Hing Mui Sauce. A tangy addition to burgers or as a delicious salad dressing, Li Hing Mui Sauce is easy to make and will soon become a household staple.
Follow our simple recipe to add a bit of extra sparkle to your favorite meal.
Li Hing Mui Sauce Recipe
Ingredients
¾ cup of

Li Hing Mui powder

¾  cup of rice vinegar

1 tablespoon of lemon juice

1 teaspoon of honey

1 teaspoon of Dijon mustard

½ cup of sugar

1 cup of extra virgin olive oil
Prep Time
10 mins
Method
In a mixing bowl combine all ingredients except the extra virgin olive oil. Mix well. Gradually pour in the olive oil, whisking slowly. This allows the mixture to emulsify.
Sauce is ready when all ingredients are combined.
Keep the Li Hing Mui Sauce in the refrigerator. Shortly before you are ready to serve, take it out of the refrigerator and allow it to come to room temperature naturally. Give it a good shake to let it emulsify again before drizzling over your meal.
Calories
120 per serve
Makes
400 ml