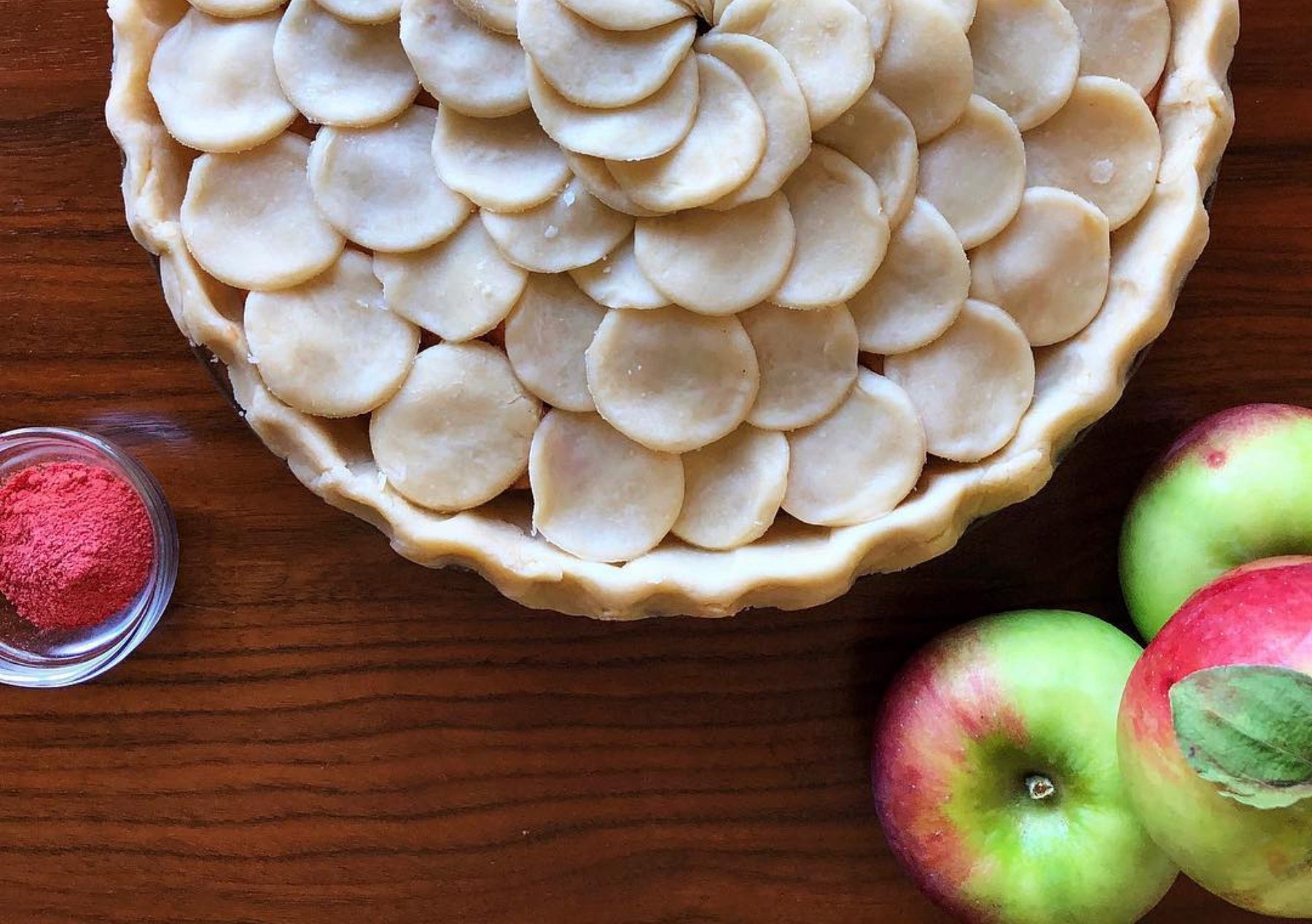 Li Hing Mui Apple Pie Recipe
Mahalo to our friend AARON KOMO for sharing this recipe with us!
Check out his easy to follow instructions on how to make both the crust and the Onolicious Li Hing Mui Apple filling, giving a Hawaiian twist to an American Classic.
PIE CRUST - Enough for top and bottom of an 8'-10' pie pan
2 1/4 cups flour
1 tsp salt
2 tsp sugar
16 tbsp unsalted butter
6 tbsp cold water
Combine flour, salt, sugar, and butter in a food processor so that it's blended and crumbly. (Or if you don't have a food processor, use two forks and break and blend in the butter by hand.)
Add dry ingredients to a bowl and sprinkle water a tbsp at a time and work your dough into a ball.
Wrap the ball in plastic wrap and store in the freezer for 10 minutes or refrigerate for 30 minutes.
Roll out the dough and use your pan to gauge how wide it needs to be - thickness should end up being less than 1/4 inch - and trim to size.
Place in pan and set aside rest of dough to decorate the top of your pie.
LI HING MUI APPLE FILLING
1/4 cup brown sugar
1/4 cup white sugar
1/2 tsp ground cinnamon 
1 tsp Li Hing Mui powder (Add more to taste and save some to sprinkle on the crust)
Pinch of salt
5-6 apples
1 tsp fresh lemon juice
1 1/2 tsp cornstarch (optional)
2 tbsp unsalted butter
Milk as needed
Mix the sugars, cinnamon, li hing mui powder, and salt.
Peel and core the apples. Cut into 1/2 inch thick slices.
Toss the apples and lemon juice with the dry ingredients.
Take the refrigerated pie crust out and use a fork to poke holes throughout. 
Pour in the apple mixture, piling it higher in the center of the pan.
Dot the top with butter and decorate the top of your pie, ensuring that air can escape.
Refrigerate and preheat the oven to 450 degrees F.
Place the pie on a baking sheet, brush the top lightly with milk and sprinkle sugar and li hing mui powder for garnish.
Bake at 450 degrees F for 10 minutes, then reduce the heat to 350 degrees and bake for another 40-50 minutes or until the crust is golden brown.
Cool on a rack before eating.
Picking fresh apples with the Ohana.
Mahalo to Aaron Komo for sharing both the photos and his recipe!