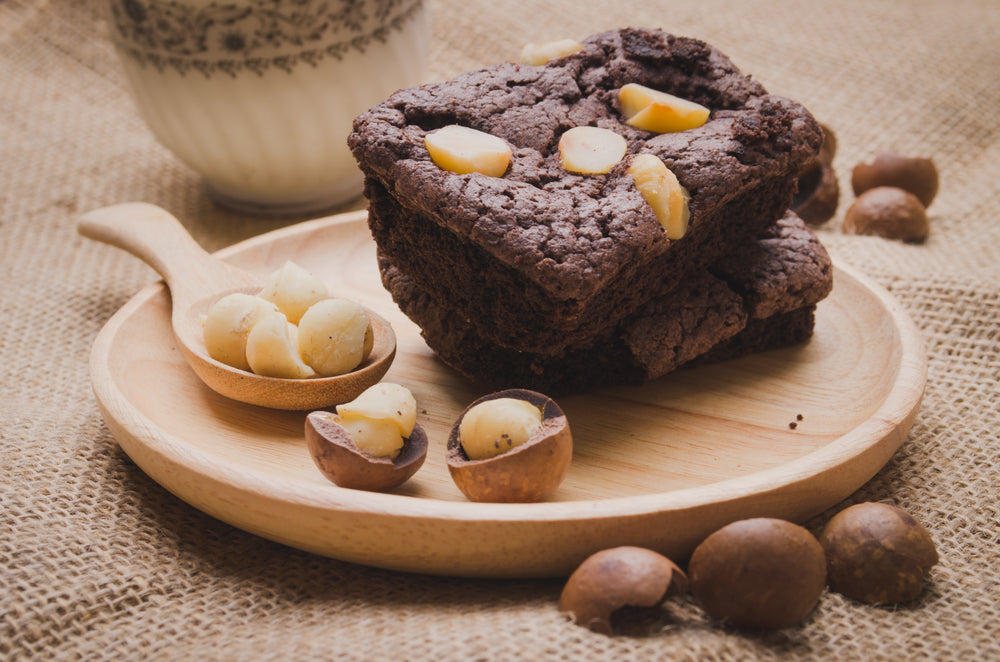 Chocolate Macadamia Nut Brownie Recipe
These are super easy to whip up and are always a crowd favorite!
Prep Time: 15 minutes
Cook Time: 35 minutes
Total Time: 50 minutes
INGREDIENTS
2/3 cup unbleached all-purpose flour
3/4 cup unsweetened natural cocoa powder
1/2 tsp baking powder
1/2 tsp Hawaiian Salt (The larger granules don't quite melt and add a little sea salt flavor to each bite.)
1 cup coconut oil (Put solid coconut oil into a glass and leave in a bowl of warm water to melt.)
1 1/2 cups granulated white sugar
4 large eggs (room temp)
1 tsp pure vanilla extract
1 tsp prepared strong Kona Coffee (You can actually taste the coffee in this and it adds a little something special)
1/2 cup chopped macadamia nuts (If you don't have any mac nuts you could also use some chocolate chips!)
INSTRUCTIONS
Preheat oven to 350

°F (175°C) with rack in middle of oven. Line 9x9 pan with parchment paper.

Pour melted coconut oil over granulated sugar. Allow to cool if necessary.
Mix dry ingredients together separately.
Once sugar and oil mixture has cooled, add eggs, vanilla and coffee. Mix until blended.
Stir in dry ingredients, slowly at first, then more quickly as mixture blends. Mix until batter is smooth.
Spread batter in pan and add chopped macadamia nuts by hand all over top. Pushing nuts into batter until they're almost submerged.
Bake for 28-35 minutes (lower end for fudgier brownies) until an inserted toothpick comes out with a few moist crumbs holding on.
Cut and enjoy!