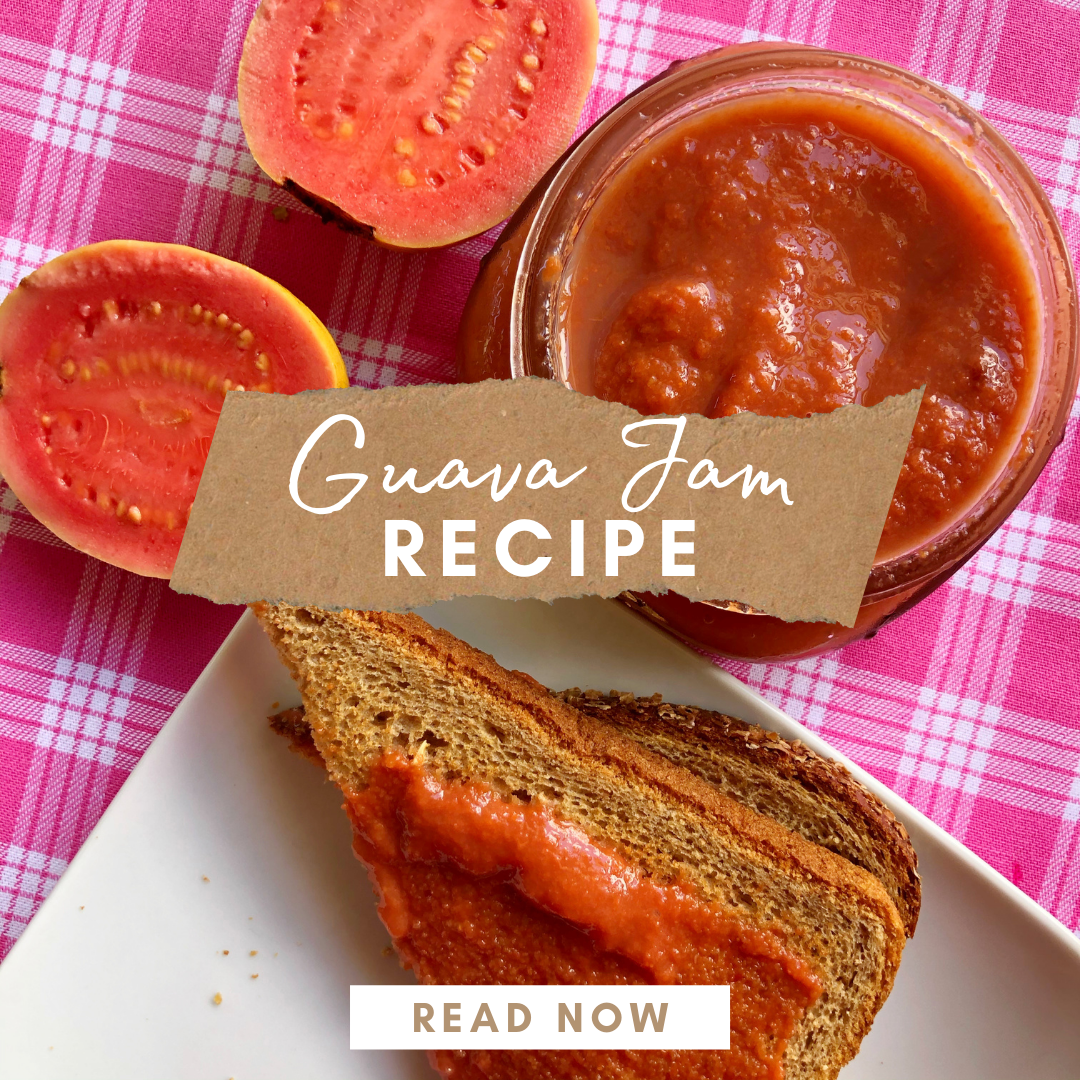 Easy Hawaiian Guava Jam Recipe
One of the great things about living on the Big Island is that when your trees start pumping out fruit, you always have enough to share with friends and neighbors. So Much Mahalos to Aunty Leonora, who dropped off about 6 pounds of guavas the other day! As soon as we saw that big bag of ripe guavas, we knew what we had to do. Make Jam! It's super easy and so delicious.
Prep Time: 1 hour 15 min
Cook Time: 45 min
Total Time: 2 hours
Yield: Four 16 oz jars
INGREDIENTS
5-6 pounds of ripe and semi-ripe guavas
4-5 cups of white sugar
1 huge juicy lemon
Water
INSTRUCTIONS
Wash and cut your guavas. Leave the skin and seeds. Put into a large pot and add about 1/4 cup water. The guavas will release choke (a lot) of liquid., so you just need enough water on the bottom to keep it from burning.

Bring to a boil for about 10-15 minutes until fruit is softened.
Let cool and blend with a large spoon. 
Scoop the mixture into a large fine mesh sieve. Smash down and try to take out as much as seeds as possible. Guava seeds are hard like rock and you don't want to bite down on one and break a tooth! This is the only part of the recipe that will require a little arm work and sweat.

Add guava puree back to pot and add the juice of one lemon and the sugar. Add the sugar a cup at a time and taste as you go until you reach your desired sweetness level. Because we used a few unripe guavas, we used a little more sugar to counteract the tartness. You can go as little as 4 cups of sugar if you like it less sweet.
Bring back to a boil and stir constantly to prevent burning. Lower heat to medium and cook for about 30 minutes. 
Can your jam and hand it out to friends and family!
If you live somewhere guavas aren't available you can always order some Hawaiian Sun Guava Jam or Jelly! Did you know they use Big Island grown guavas?