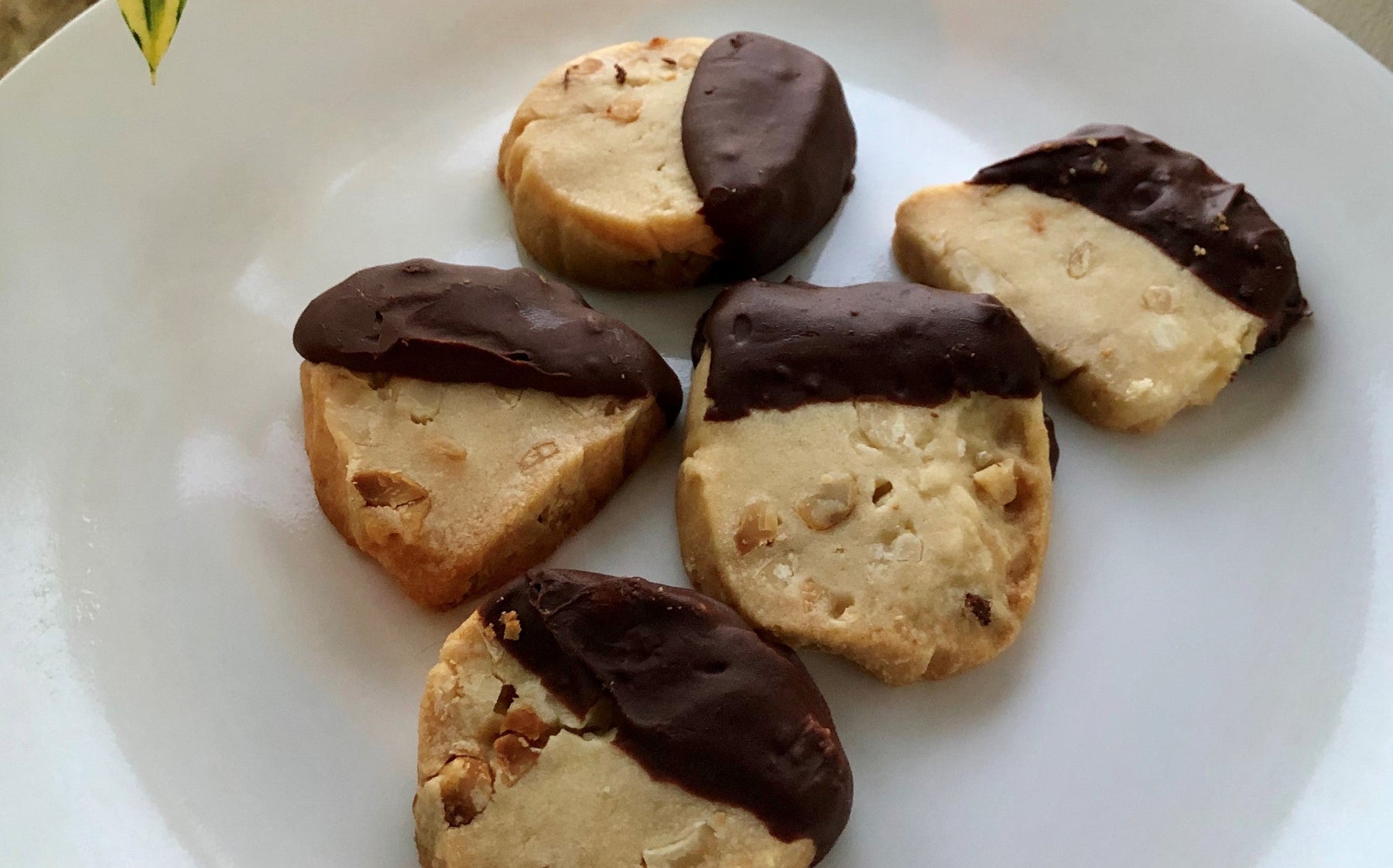 Chocolate Dipped Macadamia Nut Shortbread Cookies
Whenever we go to Hilo, I love to stop by Big Island Candies to get their famous shortbread cookies. They're so addictive, that I tried to come up with a dupe that I think is pretty close. I'm still working on the chocolate dip part, and if you have any tips, please let me know!
INGREDIENTS
1 cup butter, room temperature (2 sticks)
INSTRUCTIONS
In a mixing bowl, cream the butter and then add the powdered sugar.
Mix well and then add the vanilla.
Slowly add the sifted flour and beat until incorporated.
Mix in the 1 cup of chopped macadamia nuts
Roll your dough into a 2 inch log and wrap with wax paper
Refrigerate for 1-2 hours.(I threw mine in the freezer since I couldn't bake them right away, and thawed them in the fridge the next day before baking.) TIP: Make sure your dough is shaped nicely, or when you bake your cookies they will come out misshapen like mine did LOL. Also, if you want to be fancy and cut out shapes, you can refrigerate your dough, roll it out and then use your cookie cutters. But you will have to refrigerate them again before baking.)
Cut your dough into 2 inch slabs and put on cookie sheet.
Bake for 20 minutes and then cool completely on racks. The cookies should be a light golden color.
Make a double boiler with a pot of hot (NOT BOILING) water and a glass pyrex bowl. Pour your chocolate chips in and stir constantly.
Add your shortening and keep stirring. If your water starts to boil, take off heat and keep stirring your chocolate until it's smooth.
Dip your cookies and then place them on a sheet of wax paper. Pop them into the fridge for 20 minutes to set.
Enjoy your cookies!! And please don't forget to tag us #snackhawaii if you bake them and share on social media. I shared these with my workmates and neighbors and everyone loved them!!