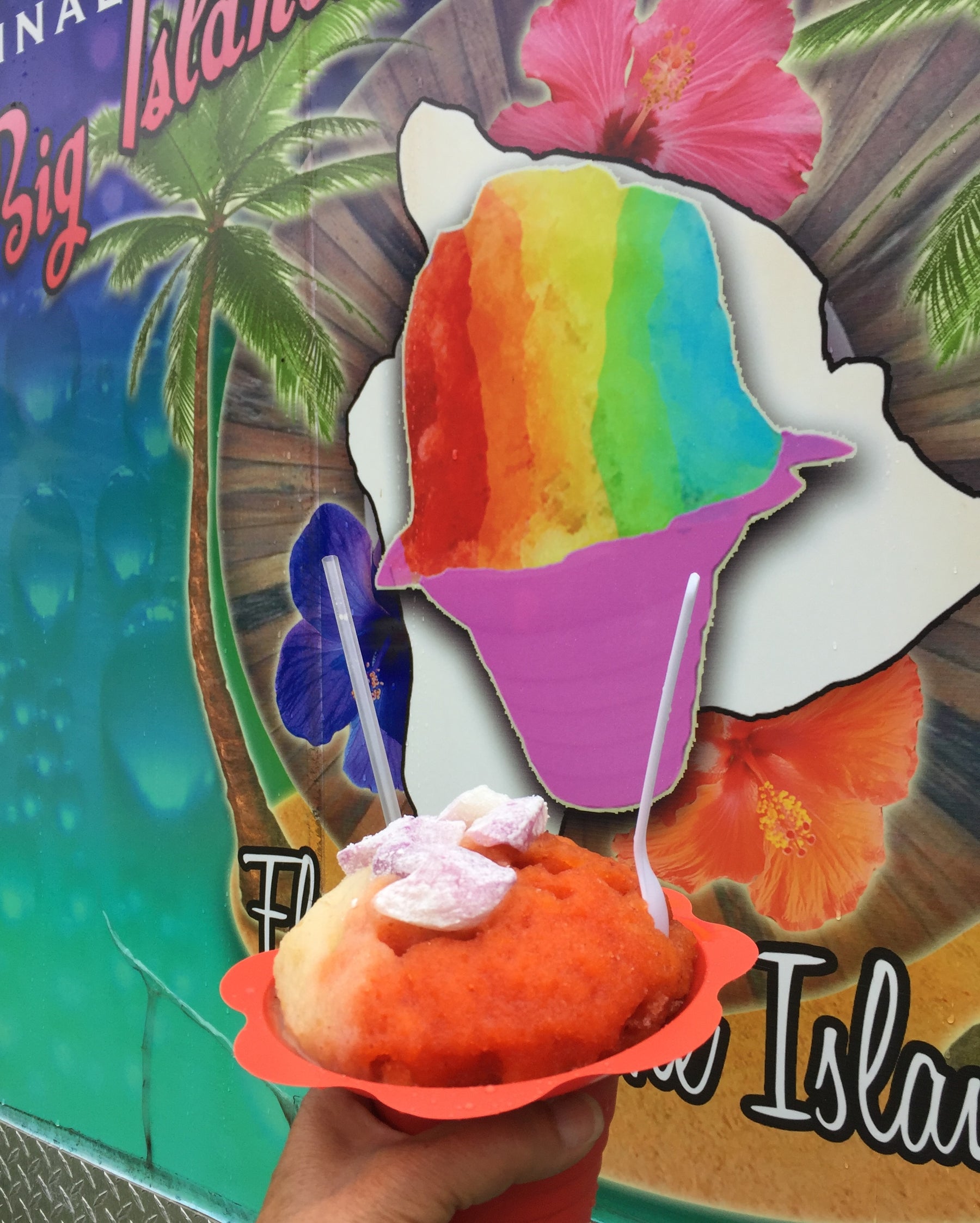 Big Island's Best Eats
Whenever Hawaiians go on vacation, the first thing they do is map out where they're going to eat. So, if you're thinking of coming to the Big Island of Hawaii and are wondering where to stop for a quick bite to eat, look no further. Eat where the locals eat!
Pine Tree Café
Serving up fried rice, Korean chicken, and Pulehu beef this is the spot for grindz.  Not too far from the airport, this can be your first or last stop for tasty island style food. Pretty much anything you order is good, and their Poke bowl is only $6.50!
Island Fish & Chips
If you're staying in Waikoloa, your options for reasonably priced meals are far and few between. This little stand located on the back side of King's Shops isn't fancy, but the fish is fresh and the lakeside view is pretty. Our pick beyond the fish and chips is the deep-fried pineapple with coconut haupia sauce sprinkled with Li Hing Mui powder. It's amazing!
Fresh Off The Grid
After hiking Pololu Valley, you'll be ready for a refreshing drink and snack. Head on over to the cutest roadside stand with a million-dollar view for a fresh fruit smoothie, a scoop of local made ice cream, or a slice of banana bread. Enjoy your snack while seated on a grassy pasture overlooking the ocean while horses graze nearby. This little gem is family run and operates on off the grid solar power!
Waimea's Farmers Market
There are three amazing farmers markets to choose from on Saturday mornings in Waimea. They all close by 12, so get there early. Our favorite is the Waimea Town Market, where you can buy made-to-order crepes, delicious BLT sandwiches made with the best bacon you've ever tasted, or fresh baked goods like cherry tarts and stone oven bread. You MUST try the fresh lilikoi and coconut juice found at the crepe stand.
The best Halohalo and homemade syrups around. This is a MUST stop on the Big Island. Follow them (or stalk them like I do) on Instagram to know where their retro food truck will be parked for the day.  Their ice is finely shaved and their mochi is pillowy soft. The fruit syrups are made from real fruit, and the amount of toppings found in their Halohalo will blow your mind. If you like decadent desserts, try their Chantilly Shave Ice!
Tex Drive In
Nestled in the sleepy town of Honoka'a, Tex Drive In is pretty much the only place to stop between Waimea and Hilo for a bite to eat and a bathroom break. Tourists and locals alike flock to Tex's for their world-famous malasadas. Watch them being made through a glass window and marvel at the amount of dough that needs to be made to feed an army of hungry Hawaiians. If you need a more substantial meal, we suggest the burger and saimin.
Donna's Cookies
You can find Donna's Cookies at most grocery stores in Hawaii, but if you want them hot and fresh out of the oven you'll need to stop by their storefront. Located in the cutest little plantation style building on Hawaii Belt Road, make sure you have your GPS on, or you'll miss it. The cookies come in durable plastic jars perfect for taking home in your luggage, and no one will know if you eat one or two. The sprinkled short bread and almond cookies are divine.
Their strawberry mochi is what dreams are made of. Fresh, juicy, XL strawberries are coated in azuki bean paste and then white mochi. Each bite is perfectly sweet, sour, soft and scrumptious. Seriously the best Japanese style mochi on the island. Don't be intimidated by the long lines, they move pretty quickly.
Open Wednesdays and Saturdays, this is one of the best places to buy everything from Peruvian tamales to Kulolo Taro popsicles. There's a wide variety of pre-made food, Hawaiian honey, and fresh fruits and vegetables that you won't find anywhere else. Also, a large bag of papayas costs only $2.00!
Punalu'u Bakery
Located on the southernmost tip of island, Punalu'u Bakery is a must stop if driving from Kona to the Volcano National Park. The sweet smell of their famous Portuguese style sweet bread baking will lure you in, and their lilikoi and apple malasadas will make you stay. Their malasadas are rolled in confectioner's sugar and are not as doughy as the ones from Tex Drive In, but you'll have to try them both to decide which is your favorite.