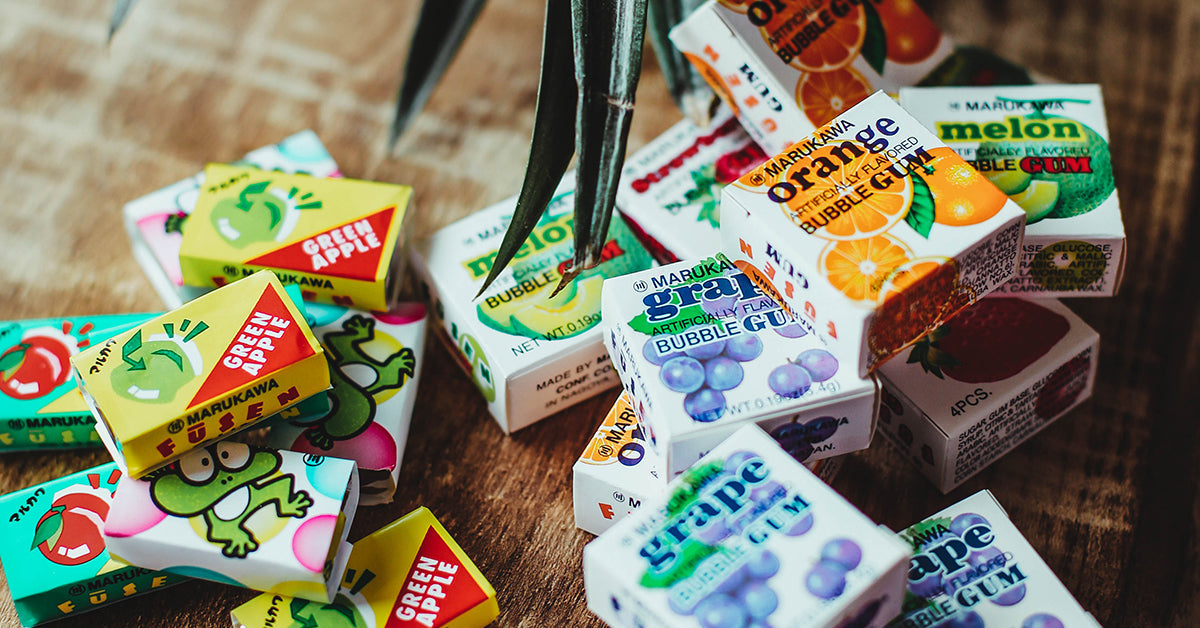 The Most Popular Japanese Candy
Whether you live in Hawaii or have visited the Aloha State, it's easy to see that locals love Japanese culture and Japanese food.
Hawaii is one of the most popular destinations for Japanese tourists and it's pretty easy to see the influence that this has had on the local culture and cuisine. 
The Japanese influence on the Hawaiian culture began as early as 1885 when 900 Japanese immigrants flocked to Hawaii to work on Sugar Cane plantations. Many workers left their plantation jobs and went on to open restaurants and cafes that served unique Japanese delicacies. These foods changed over time to fit local taste buds, but their lasting influence can be seen down to today.
Today, approximately 14% of the Hawaii population has Japanese ancestry.
One of the most loved Japanese delicacies in Hawaii is candy. Japanese candy is famous all around the world for being delicious and unique. There are so many different candies to choose from with all their distinctive flavors, their innovative packaging, and the different types you can get. Japanese candy is made from age-old traditional methods giving it the unique taste and look everyone in Hawaii is crazy for. 
We're listing the most popular Japanese candies down below. They range from chewy and hard candies to uniquely packaged chewing gums.
Snack Hawaii Picks For Most Popular Japanese Candies
Kishu Bainiku Ume Hard Candy
The most authentic Japanese candy you can get your hands on, this Ume Hard Candy is sure to tantalize your taste buds most delightfully. Ume is another word for Japanese Plums which these candies are full of. Made from real Japanese Plums from the Kishuu province, this candy has a hard outer shell with a soft plum paste filling inside. This candy will take your taste buds on a delicious journey from sweet to tart in one individually wrapped candy. 
Japanese Ginger Candy
Japanese Ginger Candy is a mix of a delicious treat that also serves as the perfect cure for indigestion or nausea. This Ginger Candy is made from actual ginger and is a firm traditional favorite in Japanese culture. This hard candy has a hard shell with the taste starting out as sweet but becoming deliciously spicy the longer it stays in your mouth. You can use these candies as a great way to clear up any cough or throat itchiness you have. The perfect low calories snack, these Japanese ginger candies double as throat lozenges and nausea alleviators.
Japanese Konpeito Hard Candy
Candy that is straight out of Japanese Anime, these Konpeito Hard Candies are Super Kawaii! Made from cane sugar, these candies come in small star shapes in an assortment of colors. Even though the colors look different, there are no different flavors. This hard candy is pretty much just crunchy sugar candy which will dance on your taste buds as you make your way through the whole bag without even realizing it. 
Japanese Lychee Candy
These handmade candies are the perfect mix of tart and sweet wrapped up in a small hard candy shell. Lychees are a popular fruit in Japan and other surrounding countries owing to their complex taste that resembles a mix between a peach and a grape. These candies have a similar shape to the small circular fruit and will be a delight to your taste buds. The hard shell and the soft center make these candies irresistible and before you know it, you will have made your way through the whole bag.
Japanese Mixed Candy
Candy that looks just as good as it tastes, this handmade Japanese candy will be the perfect pick-me-up snack for you. These candies come in multiple flavors such as Apple, Cola, Grape, Kiwi, Lemon, Peach, Pineapple, Strawberry, and Tangerine. Japanese candy is known for tasting pretty close to what real fruit tastes like and these mixed candies are no different. Something that makes these candies fun to eat is the fact that each flavor comes in a different color and shape. Kids and adults alike enjoy these candies in Japan and all around the world. 
Marukawa Tattoo Fusen Bubble Gum
The deliciousness of Japanese candy coupled with the unique packaging is something that makes it so very popular all around the world. This Marukawa Tattoo Fusen Bubble Gum is no different. A water-transferable tattoo on the inside of the wrapper adds a unique touch to the packaging. Once you've popped this strawberry-flavored bubble gum in your mouth, you can transfer the tattoo on your hand or anywhere and enjoy looking at it. This bubble gum has a very subtle flavor that stays consistent for a long time and has a very soft chew meaning it works for both kids and adults both. 
Marukawa Bubble Gum
The classic Japanese bubble gum, this Marukawa Bubble Gum will take you back to your childhood with just the right amount of Japanese influence. This bubble gum comes in a variety of different flavors ranging from Strawberry, Orange, Grape, Melon, Peach, Apple, and Mixed Fruit. All of these flavors have their own corresponding colors and each piece has a very strong burst of flavor that makes it seem like you're eating the real fruit. The soft chew of this bubble gum combined with the stunning flavor will take your taste buds on a very fun ride. 
What's your favorite Japanese Candy?
Whether you're someone who has Japanese lineage or someone who loves Japanese snacks, you will know how wonderful and refreshing these candies taste. Is there a famous Japanese candy that you love and we forgot? Comment down below and let us know!