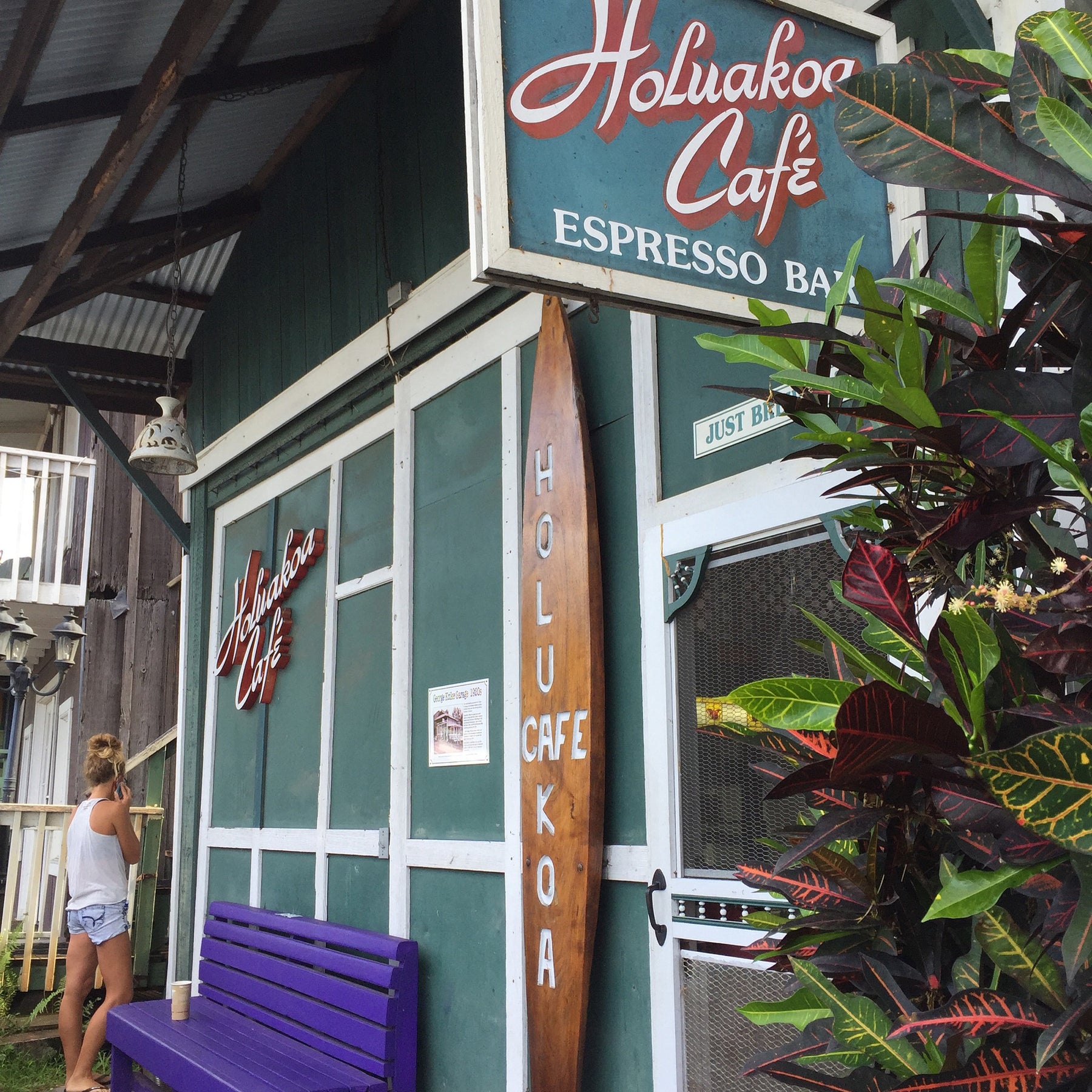 Best Coffee Spots in Kona
Starbucks, shmarbucks. Hawaii is the only state in which you can drink a cup of coffee that is locally farmed, roasted, and brewed. In the tiny town of Kona, located on the Big Island of Hawaii, java junkies can trace each cup of joe to the actual mountainside it grew upon.
Making up just 1% of worldwide coffee production, Kona coffee is the rarest in the world, and in our opinion some of the best tasting. So in this town built on beans, just where can you go to get the perfect cup of Joe? Here are our picks.
Kaya's. Seriously THE best iced coffee around, and they use coffee ice cubes!  Each cup is made with organic beans and brewed to perfection. Not acidic or bitter, just smooth and delicious. Kaya's consistently makes good coffee. They also offer a wide range of organic, gluten free, and vegan food options. So if you're looking for seriously good coffee served up in a funky, hippie-ish, creative atmosphere, this is the place for you.
Holuakoa Café. Located on the slopes of Mt. Hualalai, this quaint coffee shop and restaurant sits amongst historical buildings so cute and picturesque, you'll expect a horse and carriage to go by at any moment. Whether you like plain black coffee, lattes, macchiatos, or Americanos you can't go wrong here. Adjacent to the coffee shop, sits a beautiful garden restaurant which serves gourmet quality food. They claim to be part of the slow food movement, meaning your food won't be out lickety split, but will be made with fresh, local ingredients. The menu changes often, but be on the lookout for their eggs benedict and brisket.
Daylight Mind Coffee Company. Their Ali'I Drive location has a gorgeous view of the ocean, while their Waikaloa location is adorably charming. One of the owners is an actual coffee scientist, with a Ph.D. in coffee studies. So if you want to geek out over how to brew the perfect cup, this is the place for you. The staff is not only extremely friendly, but also very knowledgeable. The baked goods are amazing, and this place just does coffee right. Make sure you get the pour over done at your table.
Kona Mountain Coffee. Sitting behind the barista bar is an unassuming plastic tower, where their ground coffee sits at room temperature for 24 hours. We're not sure about the magic that happens during this time, but what comes out of that container is the smoothest, most flavorful cold brew around. We've heard some people complain that cold brew lacks flavor. Try Kona Mountain's Bold Cold Brew, and be prepared to be blown away.