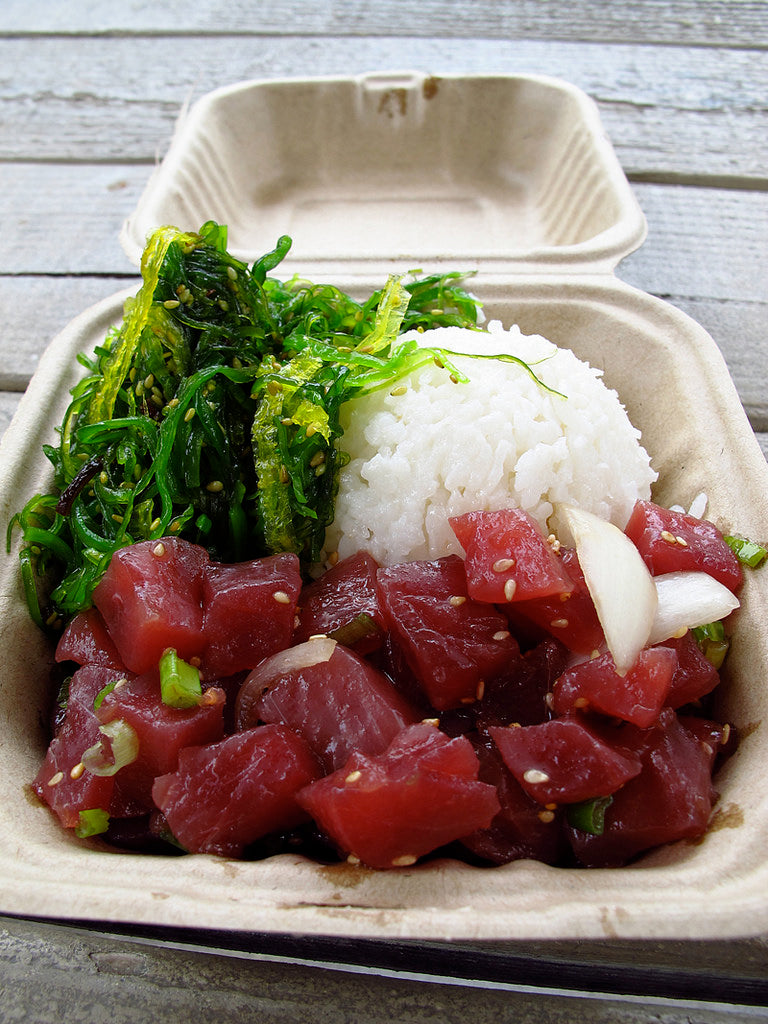 Best Poke Bowls on the Big Island of Hawaii
Updated June 2019
Poke, pronounced POH-kay, is a Hawaiian food staple. You can buy it at the grocery store, the liquor store, or even at high end restaurants. Chef Sam Choy calls it "Hawaii's soul food," and we agree. Poke bowls really do showcase Hawaii's melting pot of flavors. Whether you like your poke with limu, shoyu, wasabi or even avocado, you just can't go wrong.
So if you're thinking of visiting the Big Island, here are some of our favorite spots to get a poke bowl.
73-5617 Maiau St Bay 10, Kailua Kona, HI 96740 Near Costco Kona
This is a brand new Poke place in the industrial area near Costco Kona. The parking is a little insane, but it's totally worth it. They use only fresh fish and you can taste it every bite. The fish is so clean tasting and the two times we ate here so far, we have not had a cordy piece! Each bowl comes with two sides and a scoop of rice. So far we've tried the California Ahi mix with imitation crab in mayo, the Hawaiian style with Inamona and onion, the Spicy Ahi and the Kim Chee Shrimp. All of them are amazing!! This is our new go to lunch spot. 
Hale I'a, Da Fish House
61-3665 Akoni-Pule Hwy, Kawaihae, Right across the Minit Stop
 
If you blink, you might miss this little hole in the wall. We wanted to order shoyu poke, but the Aunty running this place had just run out. She told us to wait 15 minutes and had someone in the back butcher some fresh ahi. It was worth the wait! The chunks of fish were just the right size and the ratio of rice to fish was perfect.  The bowl also included a side of either ocean salad, crab salad, or Korean taegu. Our friends had the spicy ahi and had only good things to say about it. This is a MUST stop if you're on the way to Kohala or Waikoloa.
Da Poke Shack
76-6246 Alii Dr., Kailua-Kona
Once ranked Best Restaurant in the United States on Yelp, Da Poke Shack is also located in the middle of nowhere. If you're driving along Ali'i Drive, keep your eye on the addresses. This tiny establishment is located right in front of an apartment complex. Parking is limited. The poke here is a little fancier and the fish is cut into very small pieces. Some of the options are Kimchi tako poke, Dynamite Poke with avocado, Spicy Garlic Sesame Poke, and of course the old favorites Hawaiian style or Shoyu.  The menu is always changing and there are tons of sides to choose from.
Umekes
Ali'I Plaza 75-143 Hualalai Road
74-5563 Kaiwi St.
73-4976 Kamanu Street, Bowls & Rolls Near Costco
Umekes has multiple locations in Kona and the flavor of their poke is consistently good. They have a wide variety of poke styles and sides to choose from, so you might want to peruse their menu beforehand. Some of the sides worth mentioning are their Pipikaula (smoked meat) and Ho'io salad (made from fern fronds). Umekes has also won the Sam Choy Poke Contest two years in a row. One of their winning creations is the Poke bomb, which is a cone sushi topped with poke. It's the perfect combo of sweet, vinegary, and savory.
Honorable Mentions: Sack N' Save and Pine Tree Cafe. The bowl at Sack N' Save is probably one of the cheapest options for a poke bowl, but they use previously frozen ahi. Also, because their rice is always steaming hot you need to eat it immediately or risk your fish getting slightly cooked. But for less than $12, it's a good pick for a quick snack on the way to the beach. The bowl at Pine Tree Cafe only comes in spicy ahi, but is made with fresh fish. Their bowl is on the smaller side, but still ono!