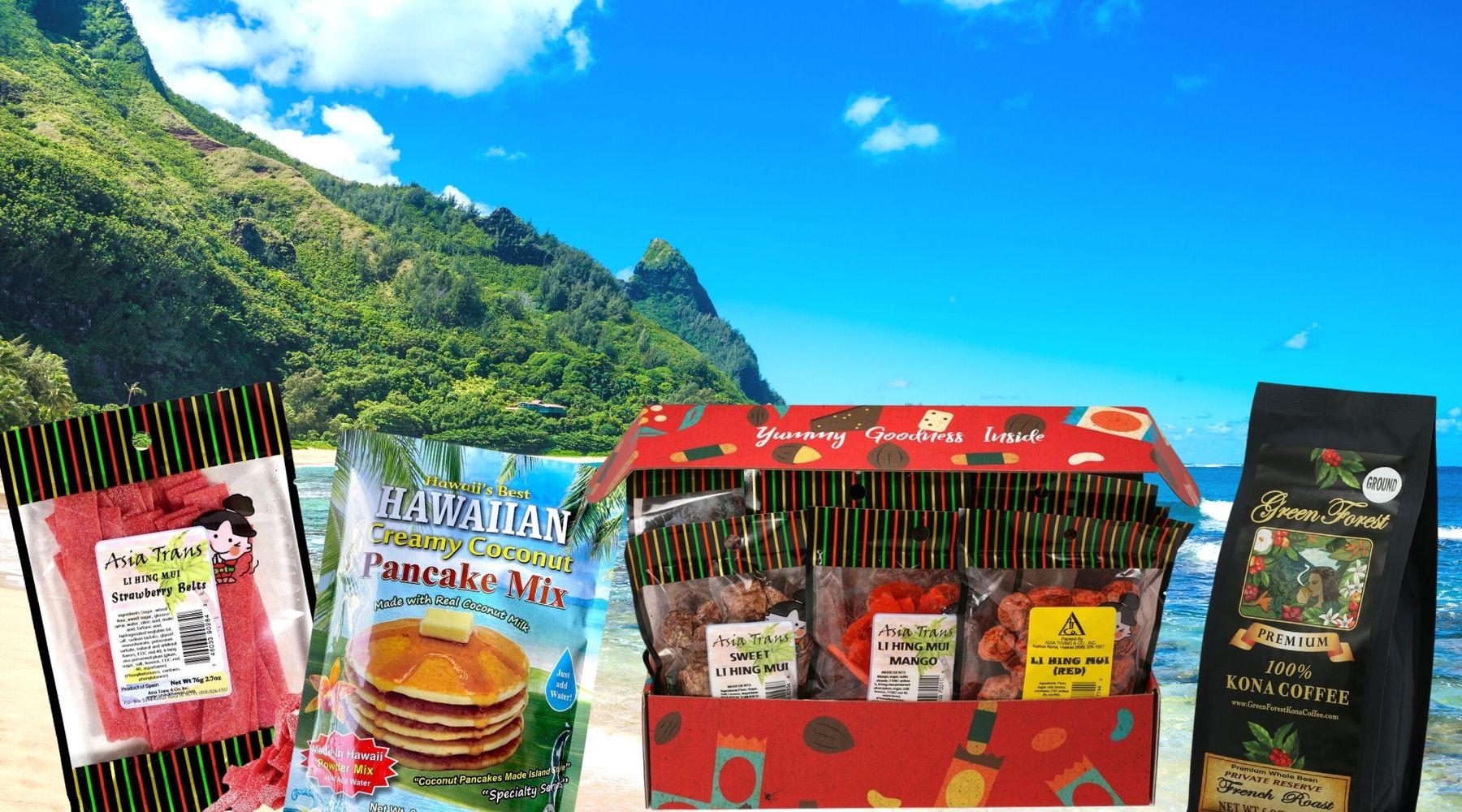 Top Hawaiian Holiday Snack Favorites
Hawaii is an enchanting land full of surprises. Coming to Hawaii is always a very special experience as we offer culture, scenery, beautiful weather, seascapes and landscapes in abundance.
While there are so many interesting articles written on Hawaiian culture and residents, we're here to talk about the food side of Hawaii. As experts on snacks (especially the Hawaiian kind), we have outlined for you the top Hawaiian food snacks that are not only popular all year round, but make an extra special appearance during holiday time, making the perfect gift for lovers of all things Hawaii.
Top Hawaiian Holiday Snack Favorites
From pancakes to coffee, let's dive into the world of Hawaiian snacks you won't find anywhere else!
1. Hawaiian Pancakes
The favorite breakfast food in Hawaii for many people, Hawaiian pancakes are fluffy, served with crushed pineapple, macadamia nuts, and coconut, and will steal your heart. These pancakes are unique and worth trying at least once. And instead of buying all the ingredients and searching for a fail-proof recipe, why not get a Hawaiian Sun Pancake Gift Set from Snack Hawaii including everything you need for the perfect Hawaiian pancake breakfast.
2. Lilikoi Passionfruit Butter
Passionfruit (lilikoi) blended with butter creates the softest, creamiest mixture of pleasure. If you haven't tried it, you don't know what heaven tastes like. You can spread it on toast or Hawaiian pancakes in the morning for a nutritious breakfast. Use it as a dressing or marinade for salmon or fruit salads.
3. Crack Seed
Crack seed are preserved fruits that have been cracked or split with the seed or kernel partially exposed to enhance flavor.
Bought into Hawaii by Cantonese immigrants in the 19th century, the range of crack seed flavors is enormous and ranges from super salty to super sweet. For an authentic taste of Hawaii, we recommend trying crack seed sprinkled with li hing mui for a delightful sweet snack.
4. Ahi Tuna Jerky by Kaimana Jerky
Fish jerky is a delicious snack for those who love jerky, but are also looking for a nutritious, healthy, tasty snack full of protein and flavor. Kaimana Jerky is Hawaii's #1 fish jerky company, with their most popular jerky being Ahi Tuna Jerky. Made from natural ingredients and FDA approved, all Kaimana Jerky is wild caught in the Pacific Ocean.
5. Hurricane Popcorn
Hurricane Popcorn will literally blow your mind, and your taste buds! Sprinkled with mouth watering flavors like mochi crunch, nori and melted butter, one small package of microwavable kernels makes a gallon of popcorn. It's easy to prepare as well. Just throw the bag into a microwave and wait for several minutes. Then, sprinkle your flavors, shake well, and enjoy!
6. Li Hing Mui Strawberry Belts
Did you know, one pack of Li Hing Mui Strawberry Belts is sold every 5 minutes at Snack Hawaii? That's how popular these sweet, tangy taste sensations are here in Hawaii.
Flavored with li hing mui powder,  a spice used in almost every Hawaiian snack, these snazzy little numbers come with a warning : may be highly addictive (but don't let that stop you!).
7. Li Hing Mui Gummy Candy
Do you love Hawaii? Do you love candy? Do you love being amazed with new flavor sensations? Do you love chewy candy? Then Li Hing Mui Gummy Candy has just ticked all your boxes!
Treat yourself or share it with others, we have no doubt there will soon be a bowl filled with these candies permanently featured on your coffee table.
8. Kona Coffee
Running For Grace
So I Married An Axe Murderer
50 First Dates
Aloha
Just Go For It
The Descendants
What do the above movies have in common? They all mention KONA COFFEE!!
Kona coffee is the market name for coffee (Coffea arabica) cultivated on the slopes of Hualalai and Mauna Loa in the North and South Kona Districts of the Big Island of Hawaii. It is one of the most expensive coffees in the world. Only coffee from the Kona Districts can be described as "Kona". The weather of sunny mornings, cloud or rain in the afternoon, little wind, and mild nights combined with porous, mineral-rich volcanic soil create favorable coffee growing conditions.
For the ultimate Hawaiian breakfast, combine your Kona coffee with Hawaiian Pancakes and you are set for the remainder of the day.
Where to Buy Hawaiian Snacks?
Snack Hawaii will gladly supply you with all kinds of local snacks to fall in love with! Get a pancake gift set for your friends and some Kona coffee for yourself. If you plan a home party with friends and family, get some Hurricane Popcorn to spice it up.
The options are plenty, and there's definitely something to suit every taste!