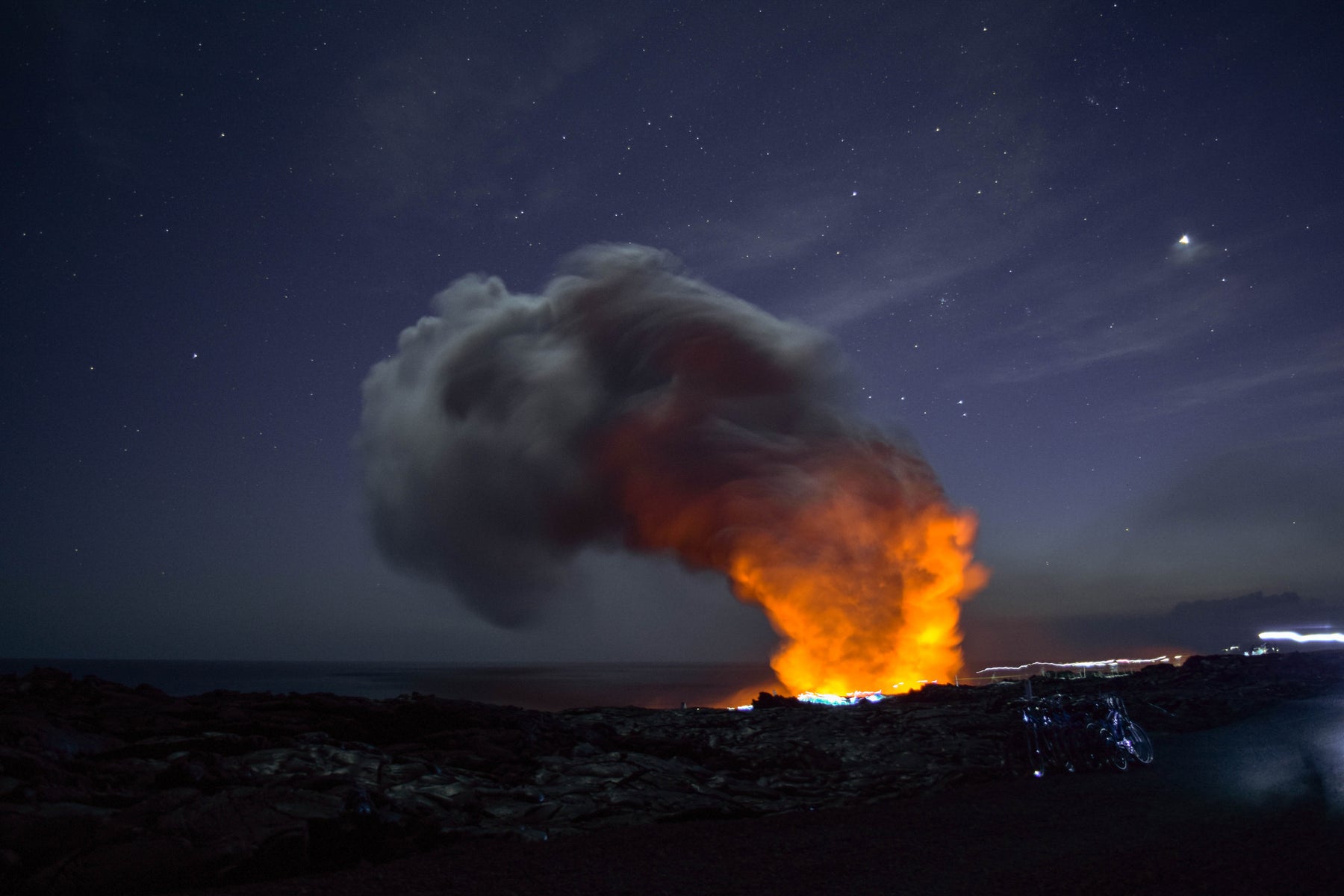 To Lava and Back
Kilauea lava flow on a starry night.
Hawaii is easily one of the top tourist destinations in the world, and it's not very hard to see why. As someone who has grown up here, I still find beauty in the palm trees, sandy beaches, volcanic rock, and the everyday creations exclusive to this place.
Each of the islands is unique, but I've found that the Big Island of Hawaii is like no other. From the lush rainforests to the sandy beaches of white, black, and green sand to Mauna Kea's snow and stars to Hawaii's only active volcano, Hawaii Island is truly a special place.
My favorite place by far is the volcano. It has a mesmerizing draw that keeps me entranced in its beauty, making me come back for more. Since the volcano started flowing into the ocean last year, I have made the 20-mile round-trip trek close to five times to see Kilauea in action. Each time was more than worth it, even while hiking for hours in the pouring rain. What I'd highly recommend and have only done once so far is to bike in and out to see the lava. It saves a lot of time and energy, although it can make for a sore body afterwards.

What you can expect to see is lots of fellow lava enthusiasts from around the world. The lava flow comes in two forms: A'a, the sharper, pointier rock, and Pahoehoe, the smooth, flowing rock. You can see both take shape as the lava hardens. In just minutes molten lava oozing from the earth changes to hardened rock. You may also find Hawaiian people chanting to their goddess of the volcano, Madame Pele. She is thought to be very powerful and sacred. Lava rocks are also revered as sacred to Native Hawaiians. Be sure not to take any home with you.
Wear good shoes! The ground is extremely hot. If you get too close, your soles will melt!
To really be prepared for a hike of this caliber, it's important to wear comfortable shoes with thick soles that will hold up to the rough terrain. It's also wise to read and obey all safety signs. A flashlight for each person going is a must. Park rangers are usually stationed at the park entrance where you can ask questions and get expertise advice. Adequate water and snacks that you can carry in a backpack are also essential to make sure you have enough fuel to make the journey. Also, if you do plan on renting bikes to make the trek, don't forget to bring along $20 per person. Above all, have fun, and bring a camera to take pictures if you can.
The best souvenir you can take home is a memory of seeing the enchanting volcano up close and personal. It is a rare story you can have and share with others. Despite the volcano's dangerous façade, there is much beauty to behold. So by all means, E Komo Mai, please come, and enjoy this glowing gem that our island has to offer.
Written by: Nicholle Stover