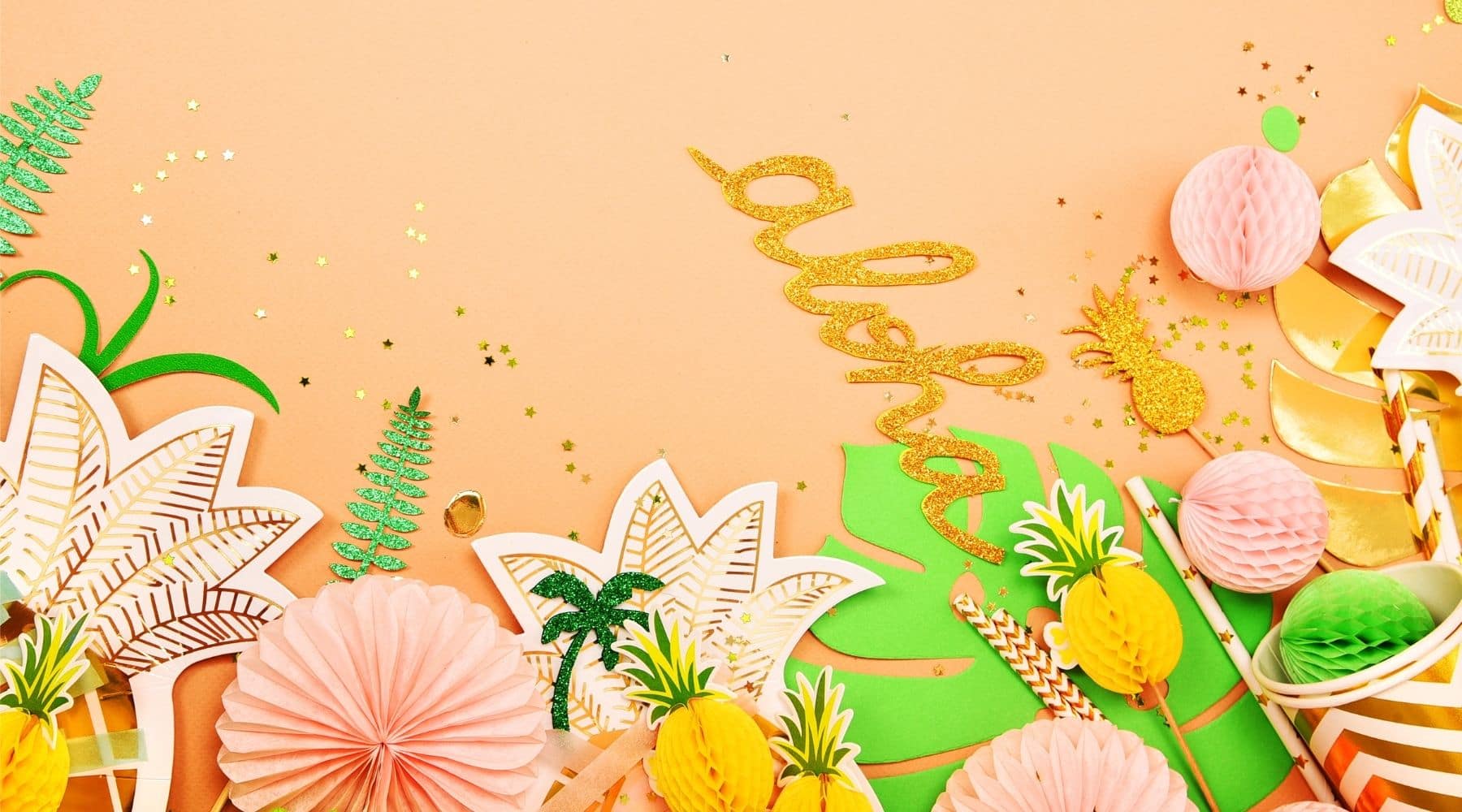 Top 5 Hawaiian Party Snacks For A Perfect Hawaiian Themed Party
Famed for its laid back attitude and frankly fabulous weather, Hawaii makes the ideal theme for a bright and sunny party at any time of year. However, to truly make this theme work, you need way more than the usual flowery shirts and lei – you also need plenty of Hawaiian party snacks. That's why we've put together a guide to help you find out all about the Hawaiian party snacks that you can't afford to leave off your to-buy list. 
FREE 

Hawaii Theme Party invitation and checklist!
At the end of this article you'll find a sign up to receive your FREE Hawaii Theme Party invitation and checklist!
TOP 5 HAWAIIAN PARTY SNACKS FOR THE PERFECT HAWAII THEME PARTY 🍍
# 1 - Kaki Mochi
Kaki Mochi, or rice crackers, have been a favorite Hawaiian snack since the 1900s. Now, there's no way you can pull off a successful Hawaiian party without at least a few bowls around the place, including show-stopping mixes like our King Nut Mix Mochi Balls or our choco mochi for a sweet but authentically Hawaiian twist on a Japanese classic. 
# 2 - Li Hing Mui Candy
Li Hing Mui powder consists of ground plum skin that's pickled in red food coloring, licorice, salt, and sugar. The finished effect is a sweet and sour taste sensation on which many Hawaiian snacks are based. Our 25-Piece Li Hing Mui Candy Packs are by far the best option for providing the full scope of this experience with a wide range of options that will all add popping Li Hing Mui flavors to your party. Or why not buy a bag of Li Hing Mui powder to create your own treats?
#3 - Chocolate Covered Macadamia Nuts
Given that it was the world's first commercial macadamia nut farmer, Hawaiian food often means macadamia nuts. The Hawaiian chocolate-covered macadamias that everyone knows and loves are perhaps the most obvious example of this, but out-of-the-box party foods that also make way for this tradition could include macadamia popcorn or even additions like this iconic macadamia honey.  
# 4 - Popcorn
'Hurricane Popcorn,' which incorporates popcorn, melted butter, nori sheets, and good old kaki mochi is perhaps one of the best Hawaiian snacks, and it's guaranteed to go down well at your party table. If you wanted to take the popcorn theme further (and why wouldn't you?), you could also consider other Hawaiian favorites including macadamia popcorn or even an Island Princess royal crunch mixture.
# 5 - Crack Seed
Crack seed is preserved fruit that's partially cracked to expose the seeds, and most Hawaiian snack cupboards wouldn't be without it. Like kaki mochi, this is a tradition that started in Asia before being passed down to Hawaiian locals. Now, complete crack seed solutions like our ultimate gift set are the ideal way to add a true taste of the foods of Hawaii to your party table. 
Food matters at any party, and having the right Hawaiian snacks makes it way more likely that your guests will have a great time getting stuck into this laid-back culture at last. Then, all you need are our free party invitation and planning checklists to make sure that any Hawaiian-themed party you throw truly taps into the aloha spirit! 
Our Choice - Hawaiian Party Pack
The most popular party treat in Hawaii is Li Hing Mui Candy (actually, anything with Li Hing Mui is a hit!). Why not order our famous Hawaiian Party Pack, ready with everyone's favorite Li Hing Mui Candies.
FREE Hawaii Theme Party Invite & Party Checklist
Simply enter your email to receive an email link to your free, editable Hawaii Theme Party Invite and Party Planning Checklist!