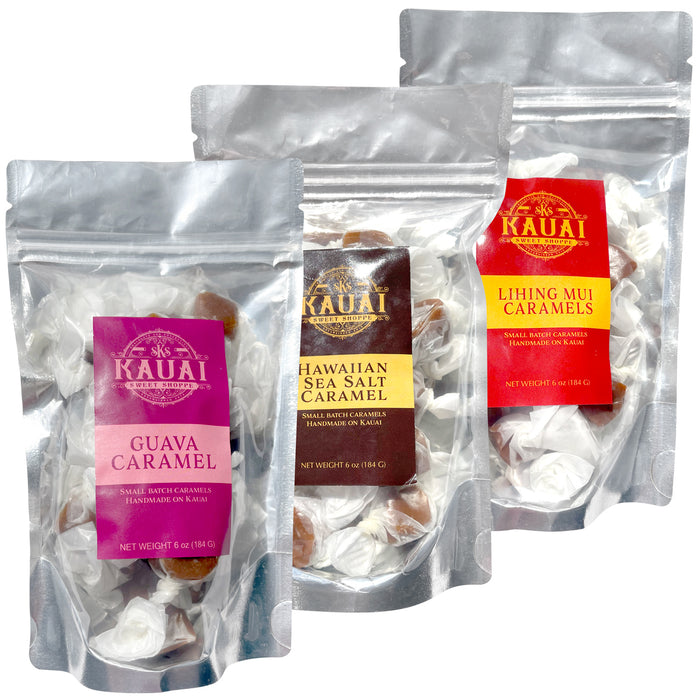 Kauai Sweet Shoppe Hawaiian Caramels Variety Set
Sold out
Original price
$ 63.00
-
Original price
$ 63.00
Kauai Sweet Shoppe is a locally owned family-operated confectioner. They specialize in their very own line of small-batch salted caramels, fruity caramels, and unique caramel flavors. Small batch, handmade, and packed on the Garden Isle! 
Our Hawaiian Caramels Variety Set comes with Guava, Hawaiian Sea Salt, and Li Hing Mui!
The guava caramels are made with real guava juice and are the perfect blend of sweet, salty, and savory. Close your eyes, take a bite, and let these Guava caramels transport you to the beaches of Hawaii. 
Classic and a well-known flavor with a Hawaiian twist on the famous 'salted caramel.'  These caramels are transformed by Hawaiian 'alaea salt, a course red salt, with a velvety caramel bite. Bestseller for a reason, find out why for yourself!
Li Hing Mui makes the perfect addition to shave ice, popcorn, fruits, and of course candy! A pickled plum powder that goes a long way. New to Li Hing Mui? Don't let the color fool you. This one is sweet with a slight bit of tang. The perfect introduction to Li Hing Mui!
Each bag is 6 oz
Made in Hawaii
Leaves warehouse in 3 business days

FREE U.S. Shipping on orders $100+

Full refund or credit for broken items

Best Price Guaranteed