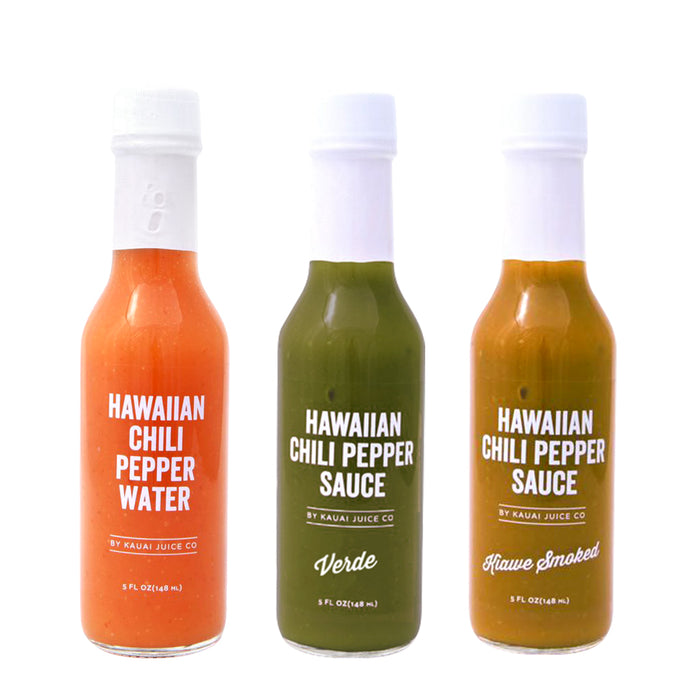 Hawaiian Chili Pepper Variety Pack
Save

17

%
Save

17

%
Original price
$ 59.99
-
Original price
$ 59.99
Get three amazing Hawaiian Chili Pepper Sauces in one variety pack - Hawaiian Chili Pepper Water, Verde Sauce, and Kiawe Smoked Sauce!
Chili Pepper Water originates with the native Hawaiians who traditionally bottled sea salt, local peppers, and water. Locals put this stuff on EVERYTHING. We kept our version simple and true to its roots. We especially like to add it to soups, soba noodles and eggs. This is one of our least spicy sauces.

INGREDIENTS:  Organic Vinegar, Filtered Water, Organic Onion, Organic Garlic, Fermented Hawaiian Chili Pepper, Hawaiian Sea Salt
Verde Green Sauce is smoky, tangy, and flavorful! It has a medium level of spice and is delicious on tacos. Pair it with chipotle hot sauce on any Hispanic-inspired dish for an extra punch of flavor.  
INGREDIENTS: Fermented + smoked green jalapeño', organic smoked tomatillos, smoked poblanos', organic onion, organic garlic, cilantro', lemon', organic white vinegar, Hawaiian sea salt'
' - sourced locally
Kiawe Smoked Sauce is Kauai Juice Co.'s most mild, but also one of their most popular sauces! They get their jalapeños from farmers all over Kauai and smoke them in small batches with local Kiawe wood to get that delicious smoky flavor. This is a fan favorite and goes great on all dishes.
INGREDIENTS: Apple cider vinegar, Smoked jalapeños, Fermented Hawaiian chili pepper, Carrot, Onion, Garlic, Hawaiian sea salt.
Each bottle is 5 oz

Grown here, not flown here! Made by Kauai Juice Co.

Made with locally sourced chili peppers and Hawaiian sea salt
BE ADVISED: This sauce contains fermented peppers. Fermentation is known to increase bioavailable nutrients in food, as well as produce B vitamins, lactic acid and omega 3's. So you might feel awesome as a result of consuming it!
Leaves warehouse in 3 business days

FREE U.S. Shipping on orders $100+

Full refund or credit for broken items

Best Price Guaranteed