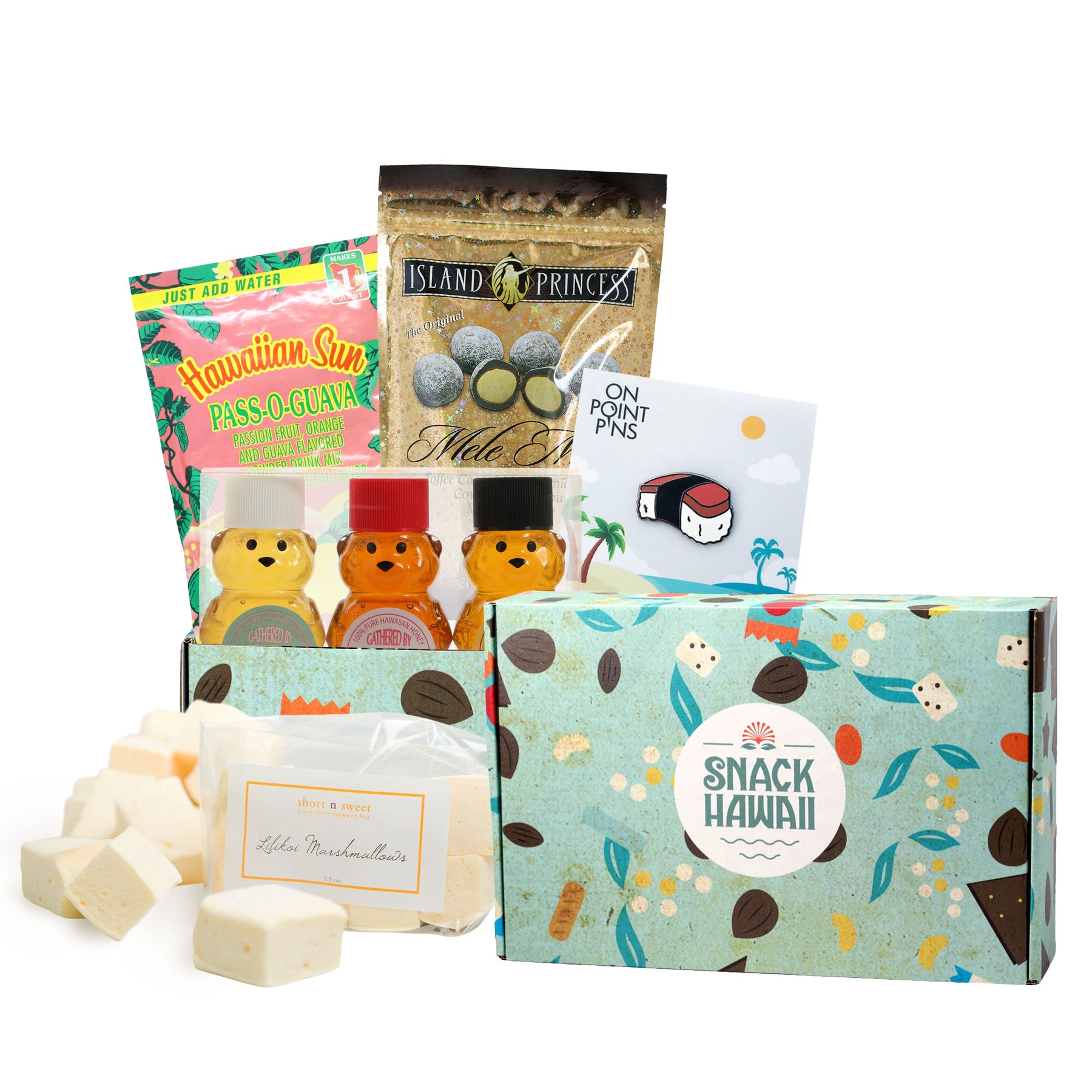 Hawaii Holiday Gift Guide 2019: Perfect Treats to Make Everyone Happy
The holiday season is upon us, so it's time to start looking for gifts for everyone. Now, choosing the right gift is never easy. There are so many things on the market that we don't even know where to start!
However, there's something with which you can never go wrong, no matter who you're shopping for, and that's treats! Everyone loves them and there's a perfect treat for everyone out there.
Here at Snack Hawaii we have a wide selection of treats and gift boxes that will be perfect for this holiday season. Our products are top quality and we guarantee people will love whatever you decide to get for them.
Choosing the right Snack Hawaii can also be a challenge because we have many different options and they're all so great. But here's a holiday gift guide to help you choose the right present for everyone in your life!
For Mom: Nothing But Chocolates!
Chocolates are a great gift. Did you know that they release endorphins in your brain thus making you happier? That's why it's so hard to find someone who doesn't like chocolates. If your mom loves them, then you'll be happy to know we have a great collection of chocolates you can choose from and different flavors to enjoy.
For Dad: Kaimana Fish Jerky
Here at Snack Hawaii we have a great selection of Kaimana Ahi Fish Jerky your dad will just love! Our Kaimana Jerky is made here in Kona and it's made with all-natural wild caught fish from the Pacific Ocean. We have a great selection of flavors like Pepper and Sriracha. You'll dad will want more where that came from, trust us!
For Grandma & Grandpa: Coffee and Tea
If grandma and grandpa are coffee and tea lovers, then you'll be happy to know we have an incredible collection of Hawaii-grown coffees and a great variety of tropical flavored teas that are unlike anything they've tasted before.
For Your Siblings: Li Hing Mui Yummy Gummy Candy Gift Set
You can't go wrong with candy and your siblings deserve the best. That's why this Li Hing Mui Yummy Gummy Candy gift set is the perfect gift for them. This gift set includes our entire selection of Li Hing Mui candies, including rainbow belts, strawberry belts, brite crawlers, gummy bears, and so much more. There are 12 different candies, both sweet and sour, that will make your siblings very happy. Plus, the Snack Hawaii box is gorgeous, making it the best present!
For Your Nieces and Nephews: A Whole Bunch of Candy!
Children love candy, so if you have lots of nieces and nephews, our collection of Li Hing Mui candy will make a great present for them. From gummy bears to sour patch kids and everything in between; you'll find it all right here. If you want to keep your favorite aunt or uncle status, then this is the way to do it.
Your Boss: Big Island Bees Honey
It's difficult to shop for a boss, but Big Island Bees Honey will make things super easy for you. This raw, organic honey comes all the way from Big Island and it's a beautiful gift set that includes three jars with three different kinds of honey. Including Organic Ohia-Lehua Blossom, Organic Wilelaiki Blossom and Macadamia Nut Blossom. You don't have to go to Hawaii to get their delicious honey for your boss. We can bring it straight to you! Give your boss the sweet gift of honey and show him or her how much they matter.
Your Best Friend: Hawaii Snack Subscription
Your best friend is one of the most important people in your life, and that's exactly why you should gift them a Hawaii Snack Subscription. This subscription will allow you to have your best friend's favorite snacks and treats delivered directly to them. Plus, you'll get up to 20% off on all listed items once you subscribe. Shipping is completely free in the US as well. This subscription is a great gift, and your best friend will love you even more!
That Special Someone You Want to Impress: Hawaii Holiday Gift Set
We know how stressful it is to get the right gift for that special someone you want to impress. That's exactly why we have this Hawaii Holiday Gift Set for you! The gift set includes: gourmet Lilikoi marshmallows, which are handmade in Hilo with local lilikoi (passion fruit), Spam Musubi Enamel pin, Pass-O-Guava Drink Mix from Hawaiian Sun, Manoa Honey Bears, and Island Princess Mele Macs, which is world-famous and delicious. This wonderful selection of treats and sweets is incredible and it will make the right impression on that special someone. It will show them how much you were thinking about them and that you want to make them happy!
Your Workmates: Manoa Honey Bear Trio
Having great coworkers is a blessing, so you want to make sure you get them something special as well. This Manoa Honey Bear Trio could be the right choice! Manoa Honey Co. products are made of raw, pure, premium Hawaiian honey, which makes this gift set so special. The trio includes Macadamia, Ohia Lehua, and Pele's Gold Honey. Each of them has a different taste, color and texture, so they will all provide a different experience at breakfast (and at any other time of the day). You can even split the trio up and give one to each of your favorite workmates.
Your Neighbors: All Sorts of Cookies!
Being a good neighbor is something we should all aspire to be, because it's wonderful to be a part of a community. If you have great neighbors and you want to get something nice for them this holiday season, you should get them some cookies from our amazing collection!