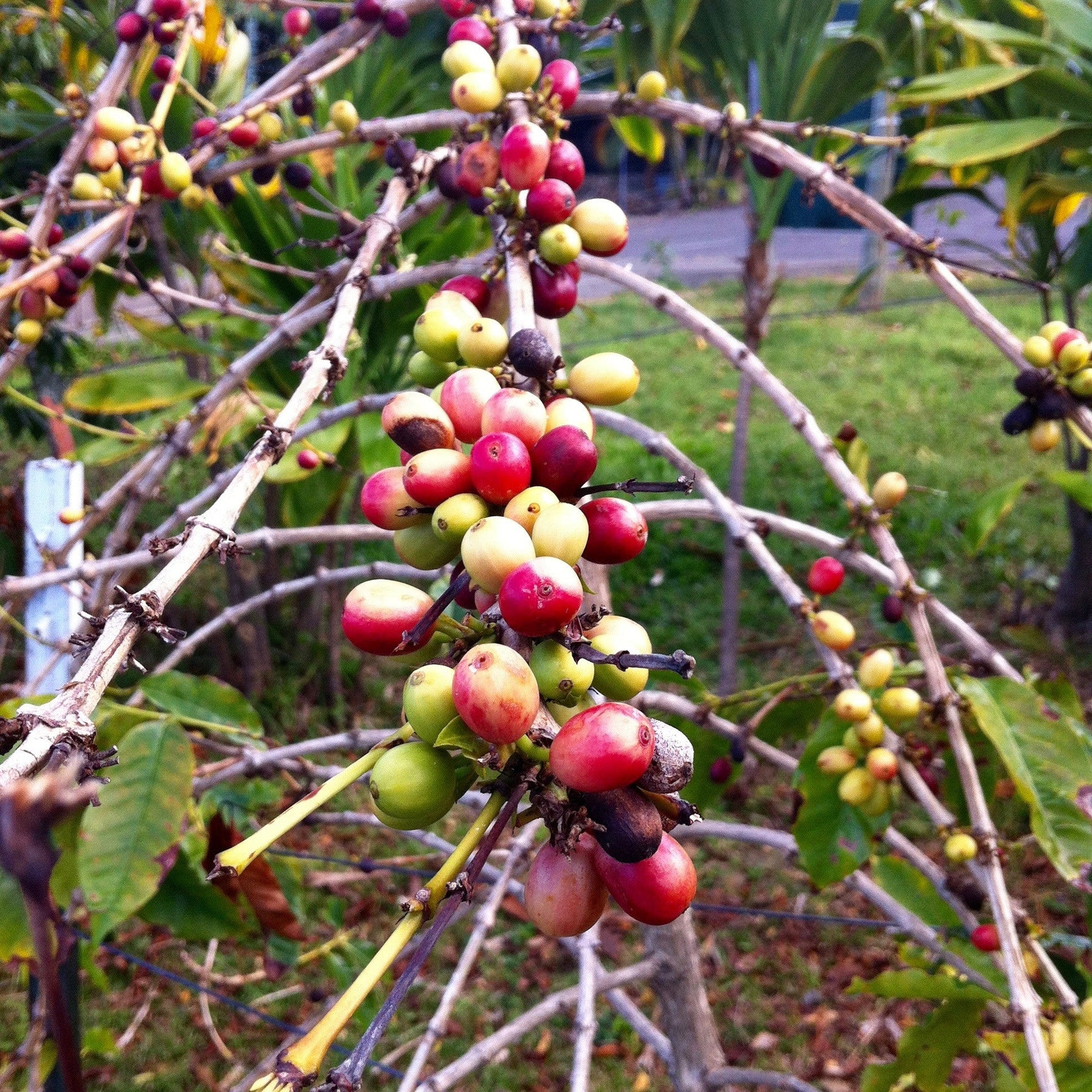 Mountain Thunder Organic Kona Coffee Grows in Donkey Poo
Talon checking out the mini donkeys at Mountain Thunder Coffee.
Mountain Thunder Coffee is one of the most recognizable names in the Kona coffee business. They are also one of the few farms that sell Certified Organic coffee beans. Located in Kaloko, Kona, their Organic Cloud Forest Estate has been featured on Network Television shows such as Dirty Jobs and Unwrapped.

This is a family owned and operated operation and their organic coffee has won 15 awards to date. Mountain Thunder is also certified Kosher and has the State of Hawaii Seal of Quality.
Now what makes their Organic Coffee so special? Instead of using pesticides to get rid of weeds and other unwanted vegetation, Mountain Thunder has brought in animals such as goats, geese, and donkeys to graze their property. These animals eat the unwanted vegetation, and the manure they leave behind is mixed with seaweed and other organic waste to make the perfect fertilizer. Proving once again, that poo does indeed make the world go round.

The district of Kona on the Big Island of Hawaii isn't large, but it special. Rocky volcanic slopes make for nutrient rich soil, while sunny mornings and misty afternoons create the perfect environment for growing world famous coffee beans. Hawaii has over a 180 years of coffee growing history and is the only state to grow coffee commercially.
Growing coffee beans is a labor intensive work of love, which explains why coffee plantation owners are so passionate about producing only the best, highest quality cups of joe. For the past ten years Mountain Thunder Coffee has grown, hand picked, and roasted premium 100% Kona Coffee.
To learn more about the process, please check out their free tours which run daily from 9-4, every hour on the hour. Also, if you have kids they'll love the mini donkeys you can sometimes see wandering around eating just about everything in sight.
Kona coffee cherry ripening in the sun.