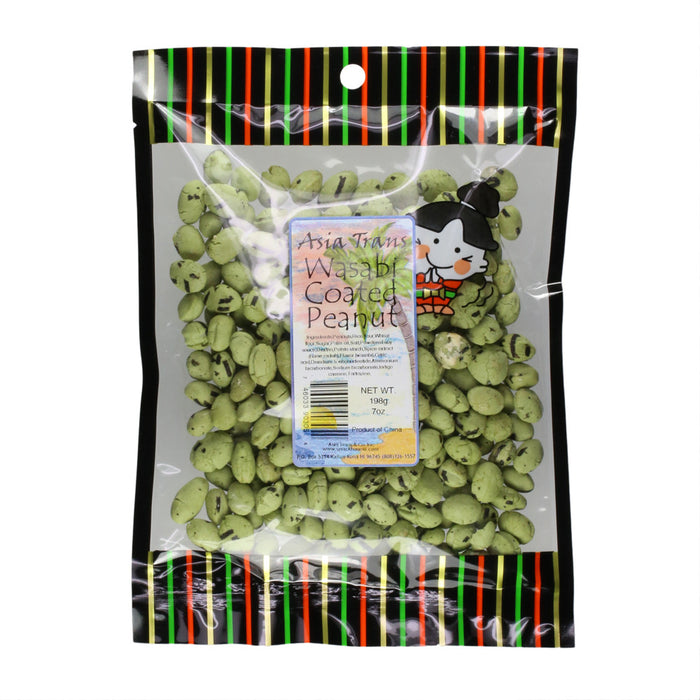 Wasabi Coated Peanut - 7 oz or 12 oz
Save

20

%
Save

20

%
Original price
$ 14.99
-
Original price
$ 24.99
Introducing Wasabi Coated Peanuts, the perfect snack for those who love a spicy kick with their peanuts. These crunchy and flavorful snacks are coated with a delicious blend of wasabi and other natural spices, making them a popular choice among fans of Asian snacks and spicy flavors.

The peanuts used in this snack are carefully selected for their high quality and roasted to perfection before being coated with the wasabi seasoning. The result is a crunchy and flavorful snack that is sure to satisfy your cravings for something spicy and savory.

Wasabi Coated Peanuts are perfect for snacking on the go, as they come in a resealable bag that keeps them fresh and crunchy. They're also a great addition to your next party or gathering, as they're sure to be a hit among your friends and family.

At Snack Hawaii, we're committed to providing our customers with the best quality snacks, and our Wasabi Coated Peanuts are no exception. We use only high-quality ingredients and seasonings to create a snack that is not only delicious but also healthy.

In addition to being a tasty snack, Wasabi Coated Peanuts also offer health benefits. Peanuts are a good source of protein, healthy fats, and fiber, while wasabi has been shown to have anti-inflammatory properties and may help boost metabolism.

If you're looking for a snack that packs a punch, Wasabi Coated Peanuts are the perfect choice. But if you're new to spicy snacks, you may have some questions. Here are some frequently asked questions about Wasabi Coated Peanuts:

Frequently Asked Questions:

Q: How spicy are Wasabi Coated Peanuts?
A: Wasabi Coated Peanuts are quite spicy, as they are coated with a blend of natural spices including wasabi. The level of spiciness may vary from person to person, but overall, these peanuts are a great choice for those who love a spicy kick with their snacks.

Q: Are Wasabi Coated Peanuts gluten-free?
A: Yes, our Wasabi Coated Peanuts are gluten-free, making them a great snack option for those with gluten sensitivities or celiac disease.

Q: Are Wasabi Coated Peanuts healthy?
A: Yes, Wasabi Coated Peanuts are a healthy snack option, as they are high in protein and healthy fats. Peanuts are also rich in nutrients such as vitamin E, magnesium, and fiber. However, like all snacks, it's important to consume them in moderation as they are also high in calories.

Q: Can Wasabi Coated Peanuts be stored for a long time?
A: Wasabi Coated Peanuts are best consumed within a few weeks of opening the package to ensure their freshness and flavor. However, if stored in an airtight container in a cool, dry place, they can last for several months.

Q: Can I use Wasabi Coated Peanuts in cooking?
A: Yes, Wasabi Coated Peanuts can be a great addition to recipes such as stir-fries, salads, and trail mixes. They can also be crushed and used as a coating for chicken or fish.

Q: Do you have other spicy snacks available?
A: Yes, at Snack Hawaii, we offer a variety of spicy snacks such as Spicy Ahi Poke Chips and Spicy Garlic Peanuts. Check out our website for more options.

Leaves warehouse in 3 business days

FREE U.S. Shipping on orders $100+

Full refund or credit for broken items

Best Price Guaranteed