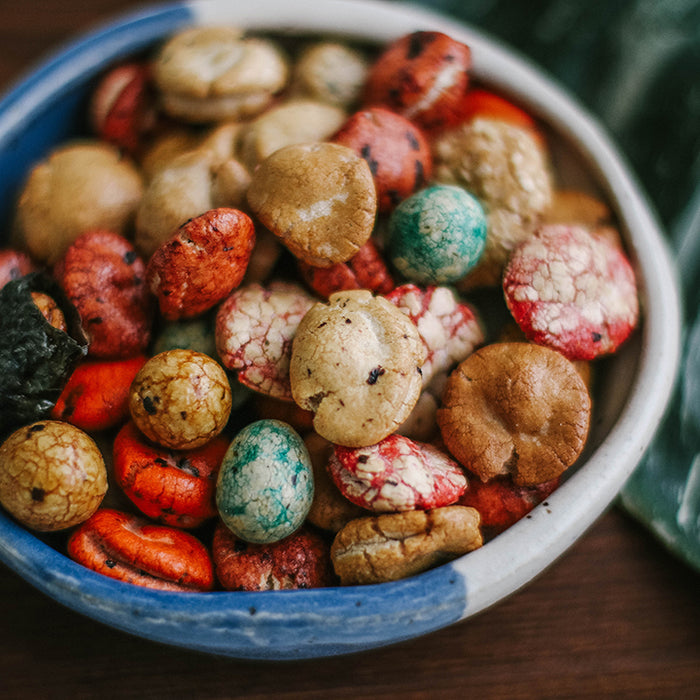 King Nut Mix Mochi Ball - 12 oz
Save

27

%
Save

25

%
Original price
$ 19.99
-
Original price
$ 54.99
Snack Hawaii's King Nut Mix Mochi Balls are a delicious and unique Asian snack that you won't want to miss out on! This 12 oz bag is filled with an assortment of tasty mochi balls in different flavors and textures, making for a delightful snacking experience.
The rice balls are flavored with seaweed, sesame seeds, squid, shrimp, and shiso with a surprise peanut inside. Satisfyingly crunchy! Comes in a resealable bag to ensure freshness.

FAQs:

Q: What is mochi?
A: Mochi is a Japanese rice cake made from glutinous rice that is pounded into a sticky, chewy dough. It is a popular dessert in Japan and is often filled with sweet fillings like red bean paste, fruit, or ice cream.

Q: Are the mochi balls gluten-free?
A: No, the Mix Mochi Balls are not gluten-free.

Q: How should I store the mochi balls?
A: It's best to store the mochi balls in a cool, dry place away from direct sunlight. You can also store them in the refrigerator if you prefer, but make sure to bring them back to room temperature before eating for the best texture and flavor.

Q: Can I microwave the mochi balls?
A: No, it is not recommended to microwave the mochi balls as it can cause them to become tough and lose their soft, chewy texture.

Q: How long do the mochi balls stay fresh?
A: The mochi balls should stay fresh for several weeks if stored properly. However, it's best to consume them within a week or two of opening the package for the best texture and flavor.
Leaves warehouse in 3 business days

FREE U.S. Shipping on orders $100+

Full refund or credit for broken items

Best Price Guaranteed