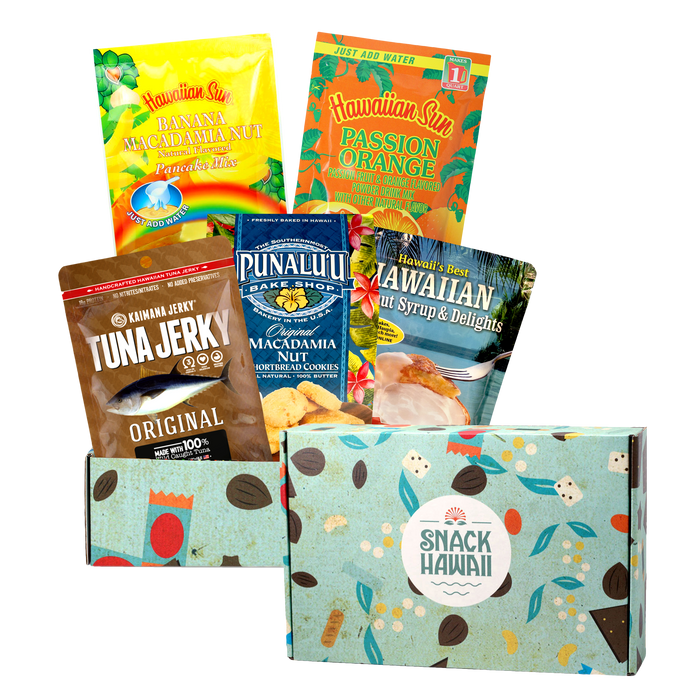 Tastes of Aloha: Made in Hawaii Gift Box
Save

15

%
Save

15

%
Original price
$ 99.99
-
Original price
$ 99.99
Immerse yourself in the authentic flavors of the Hawaiian islands with our "Tastes of Aloha: Made in Hawaii" gift box. Beyond the delectable assortment of island treats, this gift box carries a deeper purpose. With every purchase until the end of the year, 20% of all profits will be dedicated to the Maui Wild Fire Relief, supporting vital causes like the Maui Food Bank and various charitable initiatives. As of August 2023, your generous contributions have already amounted to over $2000, making a tangible impact on the community.
Carefully curated to capture the essence of Hawaii's culinary excellence, this gift box is a symphony of flavors that will delight any palate. Unwrap the essence of Hawaii with the Punalu'u Bakery Original Shortbread Cookies, a true island classic. These meticulously crafted cookies blend the rich allure of macadamia nuts with the indulgent buttery goodness of shortbread. Each bite conjures the tranquility of Hawaiian shores, a testament to Punalu'u Bakery's artisanal expertise.

Savor the spirit of the sea with Kaimana Jerky Original Ahi, a 2 oz pack that encapsulates Hawaii's maritime legacy. Marinated in an authentic blend of island spices, this ahi jerky offers a savory journey reminiscent of the ocean's embrace, connecting you to the heart of Hawaiian waters.

For a taste of Hawaii's liquid gold, the gift box includes a packet of Hawaii's Best Coconut Syrup. This delectable syrup is a harmonious fusion of the tropical coconut's creamy sweetness and the island's signature syrup-making expertise. Drizzle it over pancakes, waffles, or desserts, and let the luscious flavors take you on a culinary journey through Hawaii's lush landscapes.

Continuing the breakfast theme, Hawaiian Sun Banana Macadamia Nut Pancake Mix brings sunny island mornings to your kitchen. Blending the tropical sweetness of bananas with the buttery crunch of macadamia nuts, this mix promises fluffy and delightful pancakes that encapsulate the essence of Hawaiian mornings.

And what's a taste of Hawaii without a splash of refreshing flavor? Hawaiian Sun Passion Orange Drink Mix is a pure tropical delight. Just a spoonful of this powdered mix transforms your glass of water into a vibrant burst of passion fruit and orange, capturing the joyous spirit of the islands in every sip.

With the "Tastes of Aloha: Made in Hawaii" gift box, you're not only treating yourself or a loved one to the authentic flavors of the islands but also extending a helping hand to those in need. Your purchase contributes to a brighter future for the Maui community, a true embodiment of the Aloha spirit.

Leaves warehouse in 3 business days

FREE U.S. Shipping on orders $100+

Full refund or credit for broken items

Best Price Guaranteed