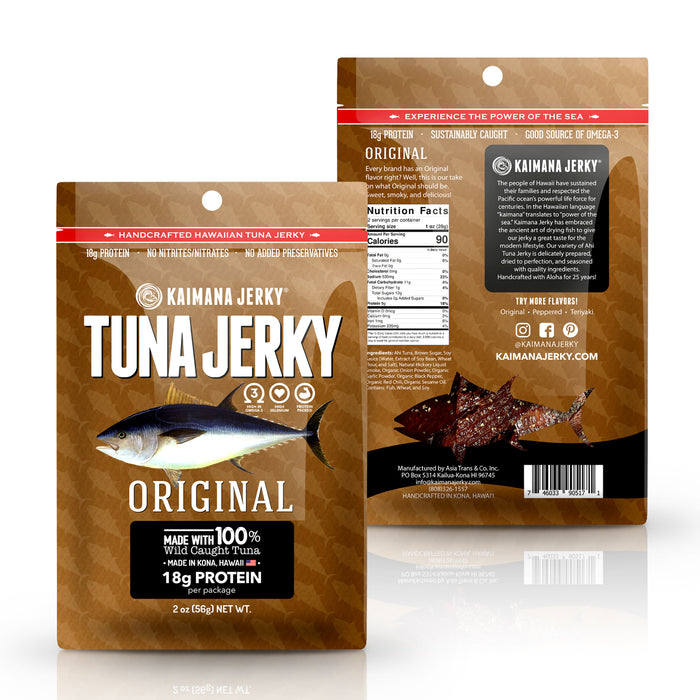 Original Ahi Tuna Jerky
Save

8

%
Save

8

%
Original price
$ 12.99
-
Original price
$ 12.99
Kaimana Original Ahi Jerky is a delectable and savory snack that hails from the beautiful islands of Hawaii. Crafted with utmost care and using only the finest ingredients, this fish jerky showcases the essence of the ocean by featuring premium-grade ahi, also known as yellowfin tuna.

Renowned for its remarkable flavor and texture, Kaimana Original Ahi Jerky is a true indulgence for seafood enthusiasts. Each slice of jerky is meticulously handcrafted, ensuring the utmost attention to detail and quality. The ahi is carefully sliced, seasoned with a blend of authentic Hawaiian spices, and then gently dried to perfection, resulting in a tender and chewy texture that is a true delight for the senses.

The jerky's flavor profile is a testament to the vibrant culinary heritage of Hawaii. With a harmonious combination of sweet, salty, and smoky notes, the marinade accentuates the natural richness of the ahi while adding a tantalizing touch of umami. The distinctive taste is further enhanced by the island's unique blend of spices, evoking a sense of tropical paradise with every bite.

Kaimana Original Ahi Jerky offers more than just exquisite taste; it also boasts numerous health benefits. Ahi is a lean source of protein that is rich in omega-3 fatty acids, making it an excellent choice for those seeking a nutritious snack. The jerky is free from artificial preservatives, MSG, and gluten, ensuring that it can be enjoyed by individuals with diverse dietary preferences.

Whether you're an adventurous food lover, a fitness enthusiast, or simply in search of a guilt-free treat, Kaimana Original Ahi Jerky is the ideal snack to satisfy your cravings. Its distinctive flavors, exceptional quality, and the spirit of aloha captured within each bite make it a true taste of Hawaii. Indulge in the essence of the Pacific with Kaimana Original Ahi Jerky and embark on a culinary journey unlike any other.
Each resealable bag is 2 oz.

FAQs:

Q: Is Ahi Tuna Jerky healthy?
A: Yes, Ahi Tuna Jerky is a healthy snack option. It is made with natural ingredients and contains no added nitrates or nitrites. Additionally, ahi tuna is a lean source of protein that is low in fat and calories.

Q: Is Ahi Tuna Jerky spicy?
A: No, Ahi Tuna Jerky is not spicy. The teriyaki sauce used in the marinade is savory and flavorful, but not spicy.

Q: How long does Ahi Tuna Jerky last?
A: Ahi Tuna Jerky has a shelf life of about one year if unopened and stored in a cool, dry place. It's a great item to add to your emergency food supplies. It's also a great snack for hiking enthusiasts as it does not need refrigeration and is nutritionally dense.

Q: Is Kaimana Ahi Tuna Jerky made with wild-caught tuna?
A: Yes, Kaimana Ahi Tuna Jerky is made with wild-caught ahi tuna from the Pacific Ocean.

Q: Can I use Ahi Tuna Jerky in cooking?
A: Yes, Ahi Tuna Jerky is incredibly versatile and can be used in cooking. Try adding it to salads, mixing it into scrambled eggs, or using it as a topping for pizza or tacos.

Q: Does Ahi Tuna Jerky contain allergens?
A: Yes, Ahi Tuna Jerky contains soy sauce, which is a common wheat allergen.

Leaves warehouse in 3 business days

FREE U.S. Shipping on orders $100+

Full refund or credit for broken items

Best Price Guaranteed