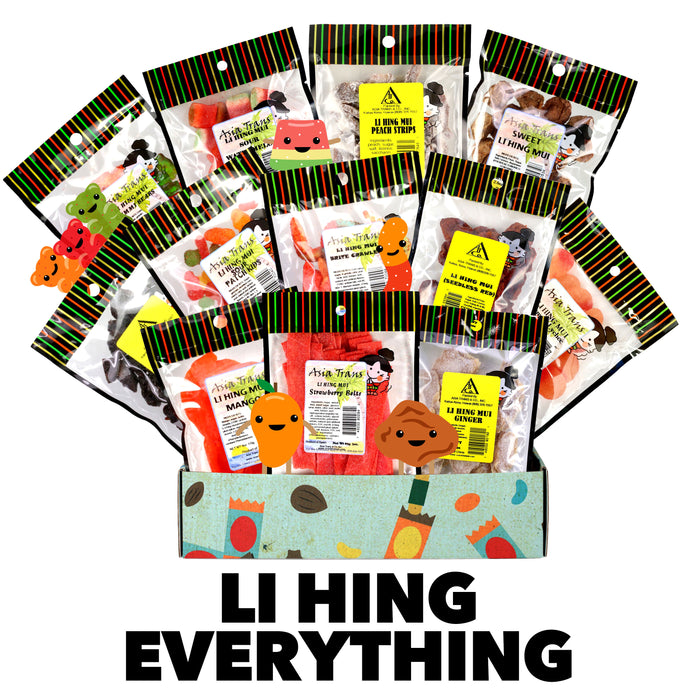 Li Hing Everything Snack Box (Candy & Crack Seed)
Save

28

%
Save

28

%
Original price
$ 80.00
-
Original price
$ 80.00
Li Hing Cherry is a sweet and tangy snack that brings the flavors of Hawaii straight to your taste buds. This Asian snack consists of dried cherries that have been coated with Li Hing Mui powder, a popular seasoning in Hawaii made from dried plum. The combination of sweet cherries and salty Li Hing Mui creates a unique and addictive taste that is sure to please.

Each bag of Li Hing Cherry is 3 oz and contains approximately 12 servings. This snack is perfect for on-the-go, as a quick Asian snack at work, or as a topping for your favorite desserts. Li Hing Cherry is also a popular Asian snack to bring back as a souvenir from Hawaii, as it is a unique taste that cannot be found anywhere else.

FAQs:

Q: What is Li Hing Mui?
A: Li Hing Mui is a popular seasoning in Hawaii made from dried plum. It has a sweet and salty taste and is often used to flavor fruits, snacks, and even cocktails.

Q: Are these cherries fresh or dried?
A: These cherries are dried and have a chewy texture.

Q: What is the serving size for Li Hing Cherry?
A: The serving size is approximately 1/4 cup or 1 oz.

Q: Can I find Li Hing Cherry outside of Hawaii?
A: Li Hing Cherry is a unique Hawaiian snack and may be difficult to find outside of Hawaii. However, you can purchase them online at Snack Hawaii and have them delivered to your doorstep.

Q: Are Li Hing Cherries gluten-free?
A: Yes, Li Hing Cherries are gluten-free.

Q: How long do Li Hing Cherries last?
A: Li Hing Cherries have a shelf life of approximately 6 months. However, it is best to consume them within a few weeks of opening the package for optimal freshness.

Q: Can I use Li Hing Cherries as a topping for desserts?
A: Yes, Li Hing Cherries are a popular topping for desserts such as ice cream, cakes, and pies.

Q: Are there any other flavors of Li Hing snacks available?
A: Yes, Snack Hawaii offers a variety of Li Hing snacks including Li Hing Mango, Li Hing Gummy Bears, and Li Hing Pineapple.

Q: Can Li Hing Cherry be used in cooking or baking?
A: Yes, Li Hing Cherry can be used as a flavoring for baked goods such as muffins, bread, and cookies.

Q: Is Li Hing Cherry a healthy snack?
A: Li Hing Cherry contains sugar and sodium, so it should be consumed in moderation as part of a balanced diet. However, cherries are a good source of antioxidants and fiber, making this snack a healthier option compared to other sugary snacks.


In conclusion, Snack Hawaii offers a wide range of Hawaiian and Asian snacks that are sure to satisfy any cravings. From sweet to savory, they have something for everyone. Their products are made with high-quality ingredients and are perfect for sharing with friends and family or enjoying on your own.

Whether you're looking for something to snack on or a unique gift to share with loved ones, Snack Hawaii has got you covered. And with their easy online ordering and fast shipping, you can have your favorite snacks delivered right to your doorstep.


Leaves warehouse in 3 business days

FREE U.S. Shipping on orders $100+

Full refund or credit for broken items

Best Price Guaranteed