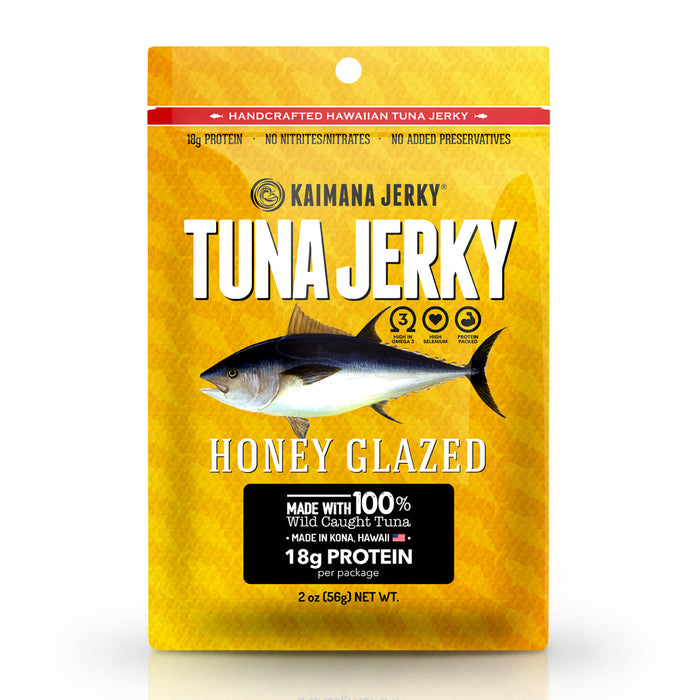 Honey Glazed Ahi Tuna Jerky
Original price
$ 12.99
-
Original price
$ 12.99
Introducing the exquisite Kaimana Honey Glazed Ahi Tuna Jerky, a tantalizing treat that hails from the exotic shores of Hawaii. This delectable jerky combines the rich, buttery flavor of premium Ahi tuna with a luscious honey glaze, creating a harmonious blend of sweet and savory notes that will captivate your taste buds.

Each slice of this fish jerky is a testament to the unparalleled quality and craftsmanship synonymous with Hawaiian cuisine. The Ahi tuna, renowned for its tender flesh and distinct flavor, is carefully selected to ensure only the finest cuts make it into this delightful snack. Meticulously prepared, the tuna is expertly marinated to enhance its natural flavors and then slowly dried to perfection, resulting in a jerky that boasts both a satisfying texture and an explosion of taste.

The infusion of honey adds a touch of sweetness that complements the inherent richness of the Ahi tuna. This glaze is carefully applied, ensuring that every bite is coated in a delectable layer of golden goodness. The honey not only enhances the flavor but also imparts a slight caramelization during the drying process, adding depth and complexity to the overall taste profile.

Kaimana Honey Glazed Ahi Tuna Jerky offers a true taste of Hawaii, capturing the essence of the islands in every bite. As you savor this culinary masterpiece, you can almost imagine yourself lounging on a pristine beach, with the gentle ocean breeze and the warm Hawaiian sun enveloping you.

Perfect as a snack on its own or as an accompaniment to other dishes, this jerky is a versatile delicacy that caters to all occasions. Whether you're embarking on a hike, planning a picnic, or simply seeking a delectable treat to indulge in, the Kaimana Honey Glazed Ahi Tuna Jerky is sure to satisfy your cravings and leave you yearning for more.

Discover the extraordinary flavors of Hawaii with every mouthful of this exceptional jerky. Immerse yourself in the tropical paradise of Kaimana Honey Glazed Ahi Tuna Jerky and let its irresistible taste transport you to the enchanting islands of Hawaii.
Made with Wild Caught Ahi from the Pacific Ocean

No Preservatives & No MSG
Made in Hawaii, USA
Handcrafted in small batches
2 ounce resealable bag

Q: How long does Ahi Tuna Jerky last?
A: Ahi Tuna Jerky has a shelf life of about one year if unopened and stored in a cool, dry place. It's a great item to add to your emergency food supplies. It's also a great snack for hiking enthusiasts as it does not need refrigeration and is nutritionally dense.

Q: Is Kaimana Ahi Tuna Jerky made with wild-caught tuna?
A: Yes, Kaimana Ahi Tuna Jerky is made with wild-caught ahi tuna from the Pacific Ocean.

Q: Does Ahi Tuna Jerky contain allergens?
A: Yes, Ahi Tuna Jerky contains soy sauce, which is a common wheat allergen.
Leaves warehouse in 3 business days

FREE U.S. Shipping on orders $100+

Full refund or credit for broken items

Best Price Guaranteed